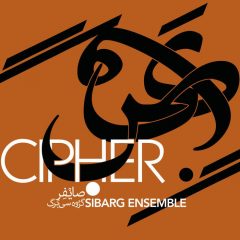 In the summer of 1977, through sheer providence, at the tender age of 19, I attended a concert by John McLaughlin and Shakti, an East meets West band featuring musicians from the North and South Indian music traditions. Even though I was more interested in McLaughlin's recently disbanded Mahavishu Orchestra, from the very first moment I was swept away by the power and beauty of the music, and some 41 years later, that concert continues to resonate.
I felt a similar sense of excitement after hearing Cipher, the debut album from the Sibarg Ensemble, whose members include three Persian musicians and three Americans. The music on this disc flows with an organic authenticity that reflects strong ties to both traditional Persian music and the improvisational aspect of jazz. Most of the members of the group met as students at UCSD.
Kyle Motl's "Azal," opens the album in a very free landscape with contrabass bowing against Andrew Munsey's cymbal washes before the entire band ignites on a tight 17-beat unison riff that combines Ebrahim Poustinchi's Robab (an Afghan stringed instrument)and the decidedly soulful Kamancheh (Persian violin) of Niloufar Shiri. After a monstrously virtuosic solo from the composer, the clear and resonant vocal of Hesam Abedini emerges, adapting a poem by Omar Khayyam while Shiri adds a final thought.
A priceless moment occurs on "Sari Galin," which begins with the soft strings in ¾ meter by Poustinchi and Shiri, laying out the mournful contours of the melody, sung in both Farsi and Armenian by Abedini and Shiri. It is not necessary to know either language to understand that star-crossed love is the subject matter at hand. Motl carves out a beautiful solo straight out of the virtuoso bass tradition. Abedini's voice reflects an incredible command of pitch and clarity.
The title track was written by pianist Joshua Charney, setting a verse from the 13th-century poet Rumi to a relentless beat from Munsey. The composer really comes alive on this one, with keys flying while engaging all instruments into the excitement. But it is Abedini's stunning display of vocal ornamentation that takes this piece to a higher level.
Motl's muscular bass powers the seven-beat "Four Parts," inspired by the Radif. Charney's piano and Munsey's clear, distinctive ride cymbal pings set the stage for the gorgeous unisons of the strings on the melody. After a wonderful solo from Poustinchi, Abedini's voice reaches into the heavens and Shiri concludes with a soulful aside. Everyone gets the chance to make a contribution on this piece making it all the more indelible.
This is wonderful music. The world needs more of this.