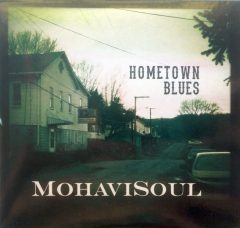 You may be inclined to scrutinize the information on the sleeve of MohaviSoul's new album Hometown Blues to see if any of these hail from regions Southern Appalachian or not. They certainly don't sound like anything you'd normally expect to hear coming from San Diego's surf—and sun obsessed vacuity. Neither laboriously bleak nor overly sunny, these are stories about the simple ironies and unexpected pains and pleasures a life brings us. MohaviSoul is a bluegrass band, storytellers of woe and joy and love found and lost as their heroes seek fortune and adventure and a better chance around the bend. Formed in Ocean Beach, the beach area's last outpost of the '60s idea of being distinct and true to one's one Thing, the interplay of guitars, fiddle, and dobro are bittersweet counterparts to the plaintive vocals of guitarist Mark Miller and mandolin player Randy Hansen, both of whom are also MohaviSoul's principal songwriters.
The tunes are sufficiently rustic and soulfully rendered, a sequence of tales reminiscent of depression and dustbowl days; long, dry highways; train whistles; large regrets; and small joy. There is a strong, persistent sense that one shoulders their burden and moves onward, stoic, strong, accepting of what one has been handed throughout their adventures before and afterward. There is, as well, a remarkable lack of the pessimism one would expect from a genre predicated on a world view that borders on the bleak and despairing. The allure of bluegrass and mountain music and the appeal of Americana music in the largest sense are the tales of indomitable spirit and the willingness of the heroes to persevere and greet the next day, lessons learned, with a song and a strong, purposeful stride.
Superbly backed by the interlocking and buoyant mandolin from Hanson; the banjo work of Jason Weiss; and the subtly bittersweet colors, tones, and accents given us by special guests John Mailander on fiddle and Will Jaffee on dobro, the songs of Miller and Hanson are clear and poetically plain spoken, oftentimes declaring that whoever is listening to the varied tales of hardship, heartache, and the lot needs to heed the simplest advice: don't sweat the chump change. "Gettie Up," sexy as it sounds but more practical than it is randy, tells us to get on the beam when life becomes the trudge, while "Stay Tuned," a spritely, rollicking ramble, simply and subtly warns us to be pleasantly surprised when different and better outcomes result from what at first appears to be a grim and final dead end. Mohavisoul's music is swiftly seductive, full of foot tapping, shoulder moving tempos, simple music accomplishing profound emotional effects. Hometown Blues is a genuinely moving contribution to the new roots music.