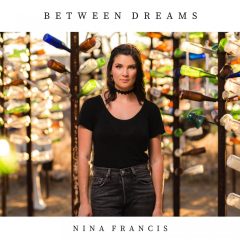 Nina Francis' unusual path so far in her career as a singer/songwriter saw her leave the area for LA after high school, but did so to develop her arresting voice and writing ability at USC. She received a degree in popular music performance in 2014, exposed to notable mentors at the Thornton School of Music. She has since been a regular fixture in local haunts (Music Box, Belly Up, a steady gig at Java Joe's) and has gathered a strong local following and recognition. Francis now has a CD that captures her talent on 11 original songs, Between Dreams. Produced by Luke Walton and Brandon Woodward, it is immaculately rendered, using arrangements that vary from stark to full band to complement her.
When Francis sings, her voice occupies the depths of the song in a way that recalls Norah Jones, while having a unique guitar-based approach to her jazzy material. It gives her a wide palette, as shown by her single and album opener "Cold Water," which flows like a crystal spring as she sings about her home state, about how she's born and raised here, so "Pacific why can't you pacify me?" Her voice floats and the guitar notes sound like sprinkled water drops. Next up, the other side of SoCal surfaces on "More." Francis points out the crowded roads, air too thick to breathe, and houses "built overnight in identical lines side by side," and she uses a minor chord theme featuring nice flute fills to lampoon consumer culture–here in the land where there can never be enough of everything, we just keep cramming it together.
Most of the songs are short, averaging three minutes with several shorter; the backing instruments are just here to frame Francis and give her bottom. A disc highlight, "The Rose," uses soft tones to capture a catchy, almost folk moment that uses beautiful harmonies on its choruses to capture the listener. Francis puts on rock boots for "Make Up Your Mind." it is a great song, and she sounds like she is having a blast singing it, as she tells a reluctant suitor that she is tired of delays and waiting. Though it ends abruptly, it shows her ability to push the beat. "Curiosity" slows things down: "Curiosity meet opportunity/ I hope you'll be the best of friends." She is taking stock on a relationship and knows that nothing is guaranteed; Francis really belts out a power vocal on this ballad.
"Los Angeles" clicks as well, as Francis sings about a lost lover: "Lost my angel, shot him down/ Can't seem to reach him here on the ground/ It must have hurt when he fell/ 'Cause he won't answer his cell." She sings in harmonies to a haunting melody about being alone and lonely in a big town. A bonus track, and more than worth a mention, is "He Was Talking to Me," a breezy jazz number with a sassy vocal, sweet horn fills, and sharp acoustic guitar strumming. It shows yet another side of Nina Francis, wrapping her outstanding, must-have debut album, Between Dreams.
Between Dreams CD release takes place on Saturday, October 7, 8pm at Java Joe's, 2611 Congress St. in Old Town. Savannah Philyaw opens.