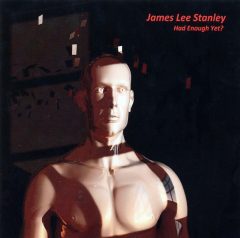 The current political climate would lend itself to protest songs, and James Lee Stanley has responded with a collection, titled Had Enough Yet? A prolific artist who has been recording since the early 1970s, Stanley helms his own label and gleaned most of the dozen songs from previous releases, all but one originals. The songs are uniformly catchy folk and pop with incisive messages about our fractured society. Stanley sings and plays guitar, the many backing musicians include notables Larry Carlton, Lawrence Juber, Paul Barrere, Rita Coolidge, Stephen Bishop, Peter Tork, and San Diegan Joe Rathburn. Stanley's remarkable website includes all the lyrics and background about each track, a big plus.
Stanley's songs aren't the bombastic, angry chants of an angry mob; he paints with some subtlety to show how confused and backwards the world has become. A good example is "The World We Left Behind," a mid-tempo folk rock song asking the listener whatever happened to the lofty land with the best and brightest, where dreams were possible. He addresses the apathetic in "The Covenant," metaphorically calling them scared sheep with a "take another, don't take me" mentality. Fed "style over substance" by untruthful leaders, they ignore the lies. In the last verse, he dreams of raised voices and raised fists.
Fundamentalists of all stripes are the target of "Do It in His Name," as Stanley has choice words for those who claim to know what their God thinks and believes, and use it to enrich themselves or judge and harm others. This song has one of the most memorable melodies on the album. Larry Good wrote "Political Party," which lampoons them as… parties with hostesses, laughing people, and the warning "don't come empty handed if you want to make some friends."
He takes on our current, notorious president #45 with "Easy to See," as the lyrical message is straightforward: "It's so easy to see when you lie, you get that far away look in your eye/ And then your lips move as you get in that groove." Stanley sings less of a protest than a rallying cry for unity on "Everybody Knows," one of the lighter moments, with quotes from CCR's "Born on the Bayou" in the lyrics. He's solidly back on the soapbox for "Open Your Eyes" as this disc highlight is the closest thing to a Woodie Guthrie-inspired socialist hymn, as a group chorus sings the catchy hook to give it extra cred.
"Change" is a delicately realized, harmonized folk song that is another disc highlight, with a hopeful message about the need to see what is wrong, and the hope that we will rise to overcome it. Stanley closes the program with his recent track, "What Would You Do," another infectious, sing-along style anthem that asks a series of questions like "Would there be change or would things be the same/ Have we already done all we can?"
James Lee Stanley's Had Enough Yet? is a fitting musical response to our times, a fine collection of protest songs. See him perform at Grassroots Oasis on Friday, October 6, along with Bob Lind.