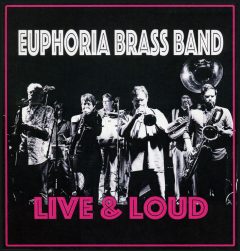 I'm at my desk, at the keyboard, with my computer, Oh no… slipping away… Sorry!!! I'll be back.
Okay. I'm back, ready to write, write, write. But sorry, I'm being pulled away again!!
Sit down! Okay! I'm writing now. Oh no. It's happening again… Gotta go DANCE! DANCE! DANCE! [Editors note: The editorship of the Troubadour acknowledges the bizarre nature of this copy (yes, I do. — ea). The author is an established music journalist with longstanding ties to the Troubadour. We are unaware of any use by the author of psychoactive substances, legal or otherwise. It was noted nonetheless that the author was away from his computer for over an hour. The exact nature of his activities may come to light in the remainder of this review.]
Sorry, folks, for the interruptions and delay. I'm back for good now. Promise. But I've been trying to review Live & Loud, the latest release by San Diego's Euphoria Brass Band, and every time I put the disk in the player, I can't control myself. I have to dance. Dancing is not optional with this disk; it is a mandate. I'm a bit out of breath, but otherwise ready to sit down and be a professional music critic.
The Euphoria Brass Band has been enlightening and entertaining San Diego with their high-spirited brand of New Orleans brass band music for several years. They have released previous disks, studio efforts that have been absolute top-notch recordings.
However, it has always been with their live performances that the magic really takes off with this seven-piece (sometimes eight-piece) band. Live & Loud, recorded at Panama 66, the open-air venue in Balboa Park, and Seven Grand in downtown North Park, the 11 tunes on this disk give you the EBB at their live performance best. Fidelity is often sacrificed for the enthusiasm and excitement of a live recording. That did not happen here. Bill Driskill, who also plays guitar on one of the tunes, recorded the band and did an excellent job of getting the low end of the sousaphone and all the brilliance of the brass.
While the ensemble playing is rambunctious, there is nothing slapdash about the band's approach. All of the soloists are strong, willing to incorporate aspects of bebop and even a touch of rock 'n' roll from time to time in the traditional context of the brass band. The recording totals over 70 minutes, which earns it six bonus points.
If you have read anything about the EBB—telling you that they are refined and have a strong sense of subtlety—you must have read that on Bright Bart and it is FAKE NEWS! The Euphoria Brass Band is loud, boisterous, and all about fun and the groove.
They are local, so you have no excuse not to go hear them live. Until you get out and do so, the next best thing you can do is get a copy of Live & Loud, stick it in your player, and dance. Live & Loud gets two big, BIG thumbs up!