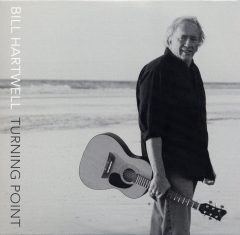 Bill Hartwell has released four solo CDs, including three since 2013's The Road I'm On. Along the way, he has established himself as one of the most reliable and imaginative acoustic singer/songwriters on the local scene. He is a superb guitarist, with an immediately endearing vocal persona, and his songs range from keen observations, to warm and introspective, to clever pieces of social commentary. Like earlier discs, his latest, Turning Point, is an immaculately produced, generous batch of 13 catchy tunes that will earn Hartwell new fans and bring a smile to those who have already discovered him.
Helping to flesh out the sound are a crack group of studio musicians–among San Diego's best–including Jim Soldi (guitars, bass, keyboards), Ken Gill (guitar), Sharon Whyte (piano), drums from Danny Campbell and Bob Sale. Soldi's production keeps the spotlight on Hartwell with warm harmonies and lovely acoustic guitars; it works perfectly for an intimate performer like Hartwell on songs like his "Be Love," a mid-tempo program kick-off that locks in the comfortable tone and note-perfect arrangements; the lyrics to all tunes are on Hartwell's website, "Love will change you, that much is true/But too much hate, is gonna change you too."
"Rosamond" is Hartwell at his best–a clear highlight he paints the picture of a lifetime–a woman who was as "soft as a sunrise and hard as the rain." The folk tune leaves little out, but grabs the listener from the first phrase about an early 20th century immigrant, Hartwell's grandmother–a story familiar for many of us–this author's Rosamonds were named Bridget and Claire. Jumping genres a bit, "Walking In Love" floats, a breezy, upbeat pop song that is perhaps the catchiest on the disc, with nice acoustic guitar fills by Soldi.
Hartwell doesn't usually rock thing up much, but "Take a Picture of It" is loads of fun, about how he is hip to today's digital culture. Sure, he'll tell the world on social media what he eats, post pics of his dog, even a selfie, "Post it on my page/Become a viral rage." Hartwell usually has something to say about the state of the world, and on "Perfect Moments" the message is that this world may be selling you the illusion of a perfect life, but the real moments actually rest in such settings as a "warm embrace," or "the sound of voices singing harmony." No argument here.
Things get cranked up for "Ill-gotten Gains," over the top of sharp electric slide guitars and organ, Hartwell is back on the soapbox about a CEO has stolen his way to the top. "His salary pays him 300 times more/Than the hard workin' folks out on his factory floor." Hartwell's title tune is a look in the mirror, a self-appraisal, with the choice clear but still difficult to commit to. "Turn it Up" is buried in the set, a solid country rocker with both Gill and Soldi on guitars, about how everything and everybody is just too loud. Like the rest of Bill Hartwell's new CD, it is a great listen for all roots music fans.