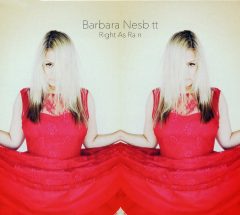 The latest CD from Barbara Nesbitt, her fourth, is Right as Rain. Originally from Georgia, she came to San Diego over a decade ago, winning country-roots fans with her original songs, on albums like her debut, A Million Stories. She has shown the ability to write and perform material that covers lots of country bases–from twangy waltzes to sad breakup ballads, and especially honky-tonk tunes with her rock boots on. She has good pipes that can go hit the high spots, has the right back country accent, and is right at home in front of fiddles, pedal steel, or hard-grinding power-chord guitars. Nesbitt relocated to Austin in 2011, and her new disc was recorded in Texas and San Diego–but wisely she co-produced with Jeff Berkley, and the disc has his precise, just-right feel throughout.
Kicking off the 11-track set, "At Large in Tennessee" is a mid-tempo country rocker that punches home a warning message about fast living. Nesbitt is in great voice, and the band is kicking ass; sharp spots by guitarist Etan Sekons and fiddler Eddie Dickerson serve notice of more that is to come. "Red" is a standout track that also has brisk rhythm, with an interesting lyric about a dress, blood, and "a set of sins that could keep a parish priest busy for a hundred years." The imagery is impressive, and again, the delivery (along with Kim DesChamps' pedal steel and Dennis Caplinger's banjo work) catches the ear.
The album's best country rocker is "Do It Again," which cranks up the knobs as Nesbitt sings with gusto over dueling guitar and fiddle about how "bad girls never win" but in the end, she would do it again. Hell, yeah. The same message is there in "Hot Tin Roof," a waltz about how she tends to keep making the same mistakes with men, bad choices, but she is resigned to it. Nice harmonies on the chorus help it pay off. "Old Devils Can Die" is a charging rocker that is a disc highlight. It works a dark, catchy guitar hook that contrasts with Nesbitt's sweetheart vocal, taken up another notch by a great acoustic-then electric guitar solo by Berkley.
Another quirky waltz, "Dammit, I Love You," spells out the frustrations of love and does so in catchy fashion, with Nesbitt accompanying herself on ukulele: "Don't leave me hanging here while you're running free/ Why am I staying here, this never happens to me?" There is only one track on this album that doesn't seem to work, "Catch Me on Fire," which has Nesbitt singing with a male backup as a duet; not clearly credited, he isn't her equal and the blend suffers. The last track is loads of fun, though: "Brought My Pajamas, Let's Get Drunk." "I may not even need 'em/ I know you ain't no monk," the mid-tempo tune clicks, about dropping silly inhibitions, living for tonight and don't worry about it tomorrow. Life's too short, why not?
Barbara Nesbitt's Right as Rain is more enjoyable country-roots, from an established, reliable source.