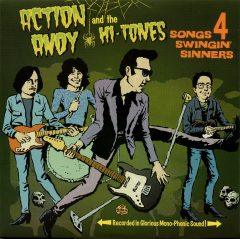 Ever since 1955, there've been a hundred thousand analytic inquires into the significance of rock 'n' roll. Sociologists do their darndest to deconstruct the phenom, but I highly suspect that its main purpose in our culture is to reflect and inspire unabashed/uninhibited joy for its initiates. Isn't that what got the "squares" so uptight during the Eisenhower era…and beyond? The fact that rock 'n' roll loosened the grip of the collective psyche; it made everybody lose control. The kids, the cops, the parents; everyone was subject to the undertow in this new wave of sonic ecstasy. Rock 'n' roll is symptomatic of liberation from the Calvinistic repression of carnal expression—a seismic call to express the euphoric visceral revelations of the spirit AND the flesh. "Rock 'n' roll" was originally an infamous euphemism for the act of fornication, no matter how sacred or profane—jellyroll to soothe the soul. And every form of dance, even the horizontal bop, deserves an appropriate soundtrack.
It's certainly no secret, and there's definitely no denying, how the overly sexualized hips of a testosterone-driven Elvis Presley drove the girls and fundamentalist preachers crazy. And without sounding the least bit sleazy, Action Andy Rasmussen has once again tapped into that primal-ooze, Brylcreem energy of Sun Studios and Sam Phillips' prodigal son.
Ostensibly, Songs 4 Swingin' Sinners is a concept record with gothic Halloween overtones. But by no means should you be pulling this baby out strictly for Samhain or Dia de los Muertos, because whatever spooky resonance these tracks elict, they're not novelty songs. They have "classic" stamped all over them.
Just as he did on 2014's brilliant The Fall and Rise of HiLo LP, Rasmussen once again recorded, mixed, and mastered Songs 4 Swingin' Sinners at Earthling Studios in El Cajon with Mike Kamoo (of the Loons) behind the board. Rasmussen's reconstituted version of the Hi-Tones is another San Diego supergroup, with the sublime rhythm section of Victor Peñalosa on drums (the Phantoms, Flamin' Groovies) and bassist Jeremiah Silva (who also contributes organ, piano, and guitar), not to mention the exceptional talents of lead guitarist Xavier Anaya (also of the Phantoms).
As a seven-inch slab that spins at 33-1/3 rpm, it's just the right size and it's something that a MP3 simply can't impersonate. And even though it's only four songs, it gets in, gets the job done, and doesn't overstay it's welcome. In fact, it's a perfect example of leaving the audience wanting, because after hearing this quartet of tunes you want to hear another four, and it seems like the only sensible thing to do is to keep on flipping the blue marbled vinyl. Repeatedly.
The package is gorgeous, with a picture sleeve illustrated and designed by Darren Merinuk that is just as enjoyable as the music. It depicts Rasmussen and the Hi-Tones as campy cartoon ghouls on the front, with a pen-and-ink drawing on the back that has the band cruising into a honky-tonk ghost town, looking like the ultimate hipsters in a Charlie Ryan Hot Rod Lincoln.
And the tunes are just fun, fun, fun, fun. "Bleeding Heart" is a metaphorical/ metaphysical nightmare, wherein a relationship (or one-night stand) goes madly awry. "Black Widow" creepy crawls through a twangy swamp of delirium, with a megaphone vocal and an incessant circular riff that refuses to quit. It's Screaming Jay Hawkins without the histrionics. "Let's Buzz" is a killer, with a mosquito-esque solo from Anaya that is positively frantic; bending, swooping, and howling in all the right places and, again, it doesn't overstay its welcome. It's an Econoline good time, with the wind whipping in your face, delivering you to your destination in style. The set bookends with another nightmare of romance gone wrong, "In the Middle of the Night," which is what the Bostweeds would sound like if they could actually sing and play their instruments (think Faster, Pussycat! Kill! Kill!). Action Andy writes soundtracks for his imaginary mind-movies that are situated on the psychotronic borderline of insanity and reality. And who among us can discern the difference?
Songs 4 Swingin' Sinners is really superb, reverberating off your turntable and vibrating through your cartridge to induce paroxysms of delight. And it's not just a cool local San Diego disc: it's a for-the-ages record that deserves space in your cute little 45 carrying case with the handle on top, and mandatory listening for any of those mod-hip-cool-chickie-baby-mama parties that are eternally in vogue. Action Andy loves classic rock 'n' roll, and that's exactly what he's managed to shake, rattle, and roll out of his South Bay, Tex-Mex soul. The Hi-Tones are also a group of hombres y hermanos that exemplify what I love about being a part of the San Diego music community: it just burns and shines in all the right ways and demonstrates how awesome art can be when we choose to collaborate instead of choosing to compete. Excelsior amigos!
Songs 4 Swingin' Sinners is available at all fine local San Diego record shops, live gigs with the Hi-Tones, and Action Andy's Bandcamp page.