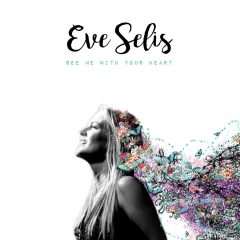 Eve Selis has been a part of the local roots music landscape for 25 years, an anniversary being observed this year between her and long-time writing and playing partner Mark (Twang) Intravaia. For most of that time, the energetic country-rock songstress has fronted and released albums with the Eve Selis band. Her last release was 2011's Family Tree, and like previous albums, especially 2008's Angels and Eagles, it featured Selis' pour-her-heart-out vocals on a blend of ballads and soft rockers emphasizing the endless quest for true love.
Her new one is See Me With Your Heart, and this time she is changing things up a bit—but not too much. Songwriting partners Intravaia, Kim McLean, and Calman Hart are again aboard, but this time she recorded in Nashville, with producer Kenny Greenberg. Most of the musicians are Nashville players, and Greenberg's work and playing on guitars gives the disc a Music City sheen, though the point should probably be made that the locally produced Angels and Tree were both superbly recorded as well.
"Fearless Heart" kicks off, a great start as Selis has her rocking boots on and a kicking band to push the beat. It may have been a while since she's been in the studio, but this shows that she is ready to dive right in. Doubling down on her hard-rocking cowgirl persona, "Still Have Long Way to Go" uses some sharp slide guitar fills to complement her powerful vocal, even coming back with a guitar/slide play-out at the end, a nice touch. The album's energy being established, the title tune throttles things back for a ballad that captures a moment of melancholy, "A million stars went laughing by/ And happy days to say." The next track is also a slow, personal love ballad, this one introspective; "Can't See Past Myself" is nicely realized, but has a lot of the same feel as the title tune right before it.
"Little Wars" is a lively, up-tempo tune with an unusual, arresting guitar/vocal hook that Selis turns into a nifty salvo in the battle of the sexes. She's telling her partner to chill out; she sees where the "broken hearts and slamming doors" are going, and she is putting down her sword. Another strong track is the bluesy "While the Night Is Still Young," a tune with Nashville shimmer—and a little taste of Memphis in the guitars.
The disc sleeper, with the catchiest hook is "Already Gone," a comfortable country ballad that burns a groove into the brain, sounding like a lost track from some '70s Ronstadt vinyl. In a way, so do the Stones-style guitar licks that mark "Slow Down," and again Selis is right at home; she's in the pocket fronting the rockers, and the playfulness here is matched by some sharp guitar lick trading. The ballad "Love Has the Final Say" appropriately wraps, and Selis is in command again, adding some final words about the quest for what we all seek.
See Me With Your Heart is, front to back, what would be expected from Eve Selis: outstanding roots music.
Eve Selis' CD release takes place on Friday, May 13, Sherwood Auditorium, Museum of Contemporary Art, 700 Prospect St., La Jolla, 8pm.