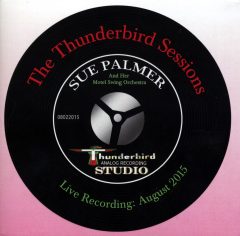 The eloquent words in the liner notes by the host of the "Jazz Ride Home" on KSDS 88.3FM, Claudia Russell aptly describes the live audience setting and atmosphere for pianist and bandleader, Sue Palmer's latest CD, The Thunderbird Sessions. "You drive up Coast Highway 101 from San Diego and turn off onto a little side street to a plain-looking building that looks like its days of magic have long passed. Tucked away in that building is the Thunderbird Studio, where recording engineer Thomas Yearsley racks up two-inch analog reel-to-reel tape to capture the sound of Sue's band, the Motel Swing Orchestra."
The idea of a live video and audio recording was the brainchild of Yearsley and Laura Jane Willcock, lead singer in the Tighten Ups. In Palmer's words: "It was a happening and fun audience with the studio full of creative and inspiring people from all walks of life, all there collaborating in the process of making art." Palmer has been a musical fixture in San Diego since the days of fronting her band, Tobacco Road, which got its start at the Old Time Cafe in Leucadia during the early 1980s, a legendary North County coffeehouse long gone by way of the wrecking ball.
The party wastes no time setting the mood as lead vocalist Deejha Marie Pope busts into a soulful slow blues, "Ladies Shoes," a Palmer original, supported by Jonny Viau's rich tenor sax phrases and guitarist Steve Wilcox's T-Bone Walker-laced licks. Pope's daughter, Sharifah, joins the fray on three R&B standards from the 1950s-early 1960s hit parade, showcasing her deep gospel flavored voice on "That's How I Feel About You," "I'm Blue," and the Ruth Brown hit "Mama He Treats Your Daughter Mean."
Palmer's piano is rollicking throughout the session as she cuts loose on her 1999 upbeat swing instrumental "No Vacancy," embellished with spirited solos by trombonist April West and Viau on tenor. Palmer tears down the house with her deft stride piano moves on her tune, "Sashimi Mimi," not to be outdone by her closing solo track, "Jacob's Boogie Woogie Lullaby," validation of why she's garnered the moniker "Queen of Boogie Woogie.
Viau's tenor sax takes center stage on a cool, slow swing version of "Harlem Nocturne," akin to the original Earle Hagen version, but with all the dulcet tones of the more familiar Viscounts rendition. Pope returns to belt out the Little Richard ditty, "Tutti Frutti" and the minor blues, gospel flavored "My Love," augmented nicely by Viau's gritty baritone sax and drummer Sharon Shufelt and West's lilting vocal harmonies. West gets to step up to the mic for a lead vocal on the standard "Cow Cow Boogie," aided by flurries of hot licks from Wilcox's guitar.
The session is highlighted by the wonderfully arranged version of Fats Waller's "Honeysuckle Rose," anchored by Pete Harrison's upright bass groove, swingin' solos from Palmer and Wilcox, along with the frenetic four-bar Dixieland exchanges from the horns. The overall intuitive musical interplay from all in the Motel Swing Orchestra is a testament to their decade-plus years of playing and staying together.
The album's release will take place on March 24 at Tio Leo's, 5302 Napa St., 8pm.