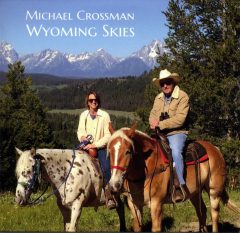 At first glance of singer-songwriter Michael Crossman's album cover, set on horseback in front of the majestic Tetons, one might not guess he was raised in Southern California. His latest release, Wyoming Skies, is a seven-track disc recorded at Studio X in Nashville under the guidance of Tom Manche, who produced, engineered, and contributed guitar and backup vocals throughout the recording. All original tunes, Crossman's vocals are backed up by some of Nashville's finest, including fiddle and mandolin veteran Tim Lorsch, bassist Dave Francis ,and Roger Morris on keyboards. What really makes the tunes click is the lush vocal harmonies of Pru Clearwater, and Manche's wife, Susan Anders.
The title track, "Wyoming Skies," speaks to the beauty and peacefulness of the western Wyoming landscape, with the vocal harmonies immediately reminding one of the bygone days of Peter, Paul & Mary. "It's Easy to Love You," follows with a cool Calypso beat that sets the mood for Crossman's lyrics against a squeezebox accompaniment right out of a romantic restaurant setting.
"I Could Get Used to That" is a short and sweet catchy sing-song ditty set in two part harmony, complete with a whistling feature as Crossman lists all the nice things in a relationship he longs for. "Let It Rain" is a gospel rocker that features all the harmony singers shining through as Crossman exudes his love of endless raindrops all around him.
"This House Is Empty" is a highlight of the album, a nicely crafted ballad on the lament of life's past and present days, carried by Morris' tasteful piano accompaniment and Lorsch's sultry fiddle phrases. "Here in Tennessee" follows with more expressive musical lines from Lorsch's mandolin and fiddle as Crossman sings of the beauty of nature around him, except this time a couple of thousand miles east of the Tetons.
The album concludes with a tongue-in-cheek ballad about the recent exploits of the two escapees from the Clinton Correctional Facility in Upstate New York, titled "Matt & Sweat." The clever lyrics take the project out on a high note, capping an eclectic mix of musical feels behind Crossman's lyrics.
Not a bad effort for a singer-songwriter in his spare time who attended college off and on, worked as a carpenter, truck driver, and high school teacher most of his life. His decision is a wise one in bolstering his material with the aid of some of Nashville's best talent.