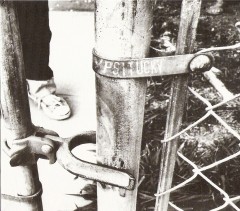 Ypsitucky is a new group formed by El Monte Slim's Ian Trumbull. While the Slim are on temporary hold, Michigan transplant Trumbull added Slim's rhythm section of Ruben Ramos (bass) and Paul Brewin (drums) to his guitar, vocals, and songwriting. No pedal steel player, but the new ingredient is fiddler Heather Vorwerck, who was featured in spots on the Slim's 2013 If I Could Just Break Even. The band name? It's what you call someone from Ypsilanty, Michigan (Trumbull's old stomping grounds) when you want to start something. Their new EP is New Old Lady.
Retaining Trumbull's strong songwriting, the six-tune package (recorded by Christopher Hoffee) adds some bluegrass feel to Slim's blue-collar country. "No Reserves" jumps on the gas from the starting gate, an energetic country rocker which grinds just right, with Vorwerck standing out. The lyrics to all of the songs are in the sleeve, and "What a Mess" keeps the juices flowing, as Trumbull relates personal tribulations in another full-throttle arrangement.
The band shows an eclectic edge with "Better Watch Your Back Boy," a catchy 3/4 ballad with a great hook that pulls influences from old folk as well as grass sources. While there are no weak tracks, the best is likely "Bruiser," telling the tale of a woman who "Keeps her ring on for every swing/ Gets it resized every time." The tune rocks, and with the fiddle helping, it rings early Jackson Browne bells. Throughout, Ypsitucky's New Old Lady is tasty, enjoyable roots music.