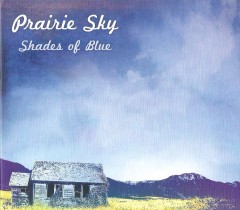 For those who enjoy their music played on wooden instruments and sung in three-part harmony, Prairie Sky has released its debut: Shades of Blue. The San Diego quartet starts with a foundation of traditional-flavored bluegrass and builds from there, venturing into neighboring genres with ease. The 13 tracks on the CD mix established traditional standards, some covers of interesting songs by established bluegrass players (Tim O'Brien, Herb Pedersen, Gillian Welch, many others), and a few originals. Ramona Ault (vocals, shaker), Jeff Smith (guitar, vocals), Avery Ellisman (mandolin, fiddle, banjo, vocals), and Dwight Worden (bass, fiddle) make up the band and all contribute lead vocals. Regular Troubadour columnist Worden produced and Shawn Rohlf did a nice, crisp recording job, with Janet Beazley helping out on banjo on two tunes.
"After the Storm" opens, an Ellisman original that introduces the band – telling a soft and unhurried story about life on the flatlands. Smith's guitar leads the way, decorated by Ellisman's mandolin lines and harmonies that have an organic depth. Ault (who impresses throughout the album) does the lead singing on the highlight, "Something I Don't Want to Know," which has a captivating rhythm and clever lyrics about not wanting to follow the bad ways of hard-living Daddy. Again, the band gives the strings chances to sing as well, with lots of sharp mandolin and guitar fills. "Old Train" is a short, up-tempo tune that hits all the right buttons as well.
It's Ault again on "You'll Never Leave Harlan Alive," a song that mines country blues and comes up with a morose story about poor Appalachian coal miners, "And you fill your cup with whatever bitter brew you're drinking/ And you spend your life digging coal from the bottom of your grave." Ault's voice has just the right amount of country edge to make this one come to life. The traditional Gospel song "Don't You Hear Jerusalem Moan" is sung a cappella and stands out, giving the group a chance to flash their harmonies. A Gillian Welch tune, "The Way It Goes," also clicks, the saga of a fallen woman that pops out of the speakers as Ault sings "She was busted, broke and flat/ Had to sell that pussy cat."
Late in the program, there are a couple of tunes that seem to fall short, both O'Brien compositions, "On the Outside Looking In" and "Let Love Take You Back Again." The former is a breakup song that seems forced, and the latter is a slow, sad country ballad that is so slow and so somber that it just bogs down. "The Newry Highwayman," on the other hand, takes a traditional British/Irish folk tune from nearly 200 years ago and gives it a strong, snappy 21st-Century string treatment, nicely sung by Ault. Beasley sits in on "The Fiddler," which becomes an opportunity for Ellisman and Beasley to have a bluegrass fiddle and banjo conversation, and a fitting finale for a very generous collection of memorable Prairie Sky bluegrass.