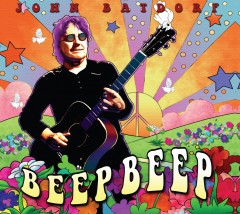 As music editor on my college newspaper in 1971, I reviewed hundreds of albums, many not so kindly. However, a few exceptions crossed my desk, one being a debut album by Batdorf & Rodney titled Off the Shelf. In a day and age of such burgeoning folk rock acts as America, Loggins & Messina, and Seals & Croft, my bar was set high for newcomers. The album, on Atlantic Records, was a pleasant surprise with well-written tunes and intricate vocal harmonies, with the two acoustic guitarists joined by an all-star cast at the Muscle Shoals Studio, including drummer Ronnie Hawkins, guitarist Dean Parks, and keyboardist Barry Beckett.
Flash forward to the present and John Batdorf is back with a dynamic self-produced album, Beep Beep, a delightful 11-track gem of original tunes ( a few co-written with close friends Michael McClean and Bill Batstone) that speak from the heart. Each song has a nostalgic story behind it, from the thrill of being a grandfather to his blissful 43-year marriage to his wife, Melanie, to his longevity as a musician. "Never in my wildest dreams as a young recording artist in the '70s," Batdorf states, "could I have ever imagined myself at age 63 still writing, recording, and still making records. That's where the path has taken me and I still feel that euphoric fire burning in my heart." While some artists from the '70s have lost a bit of their vocal prowess, Batdorf shines vocally all the way through with soul, passion, and style, from the rollicking title track opener, "Beep Beep" to the lilting closing track ballad "After the Race Is Run."
Batdorf readily admits the enormous influence of the Beatles when alluding to his clever Beatles-flavored arrangement on the title track "Beep Beep," with the laudatory lyrics: "I got the fever back in '64, ain't felt nothin' like it since, nothin' like it before" followed by "Where Does All the Money Go," reminiscent of a Paul McCartney post-Beatles flavored tune, highlighted by Chad Watson's nifty melodic bass figures, right out of the McCartney playbook.
As much as Batdorf's alluring soulful voice captures the listener from start to finish, traversing through pop, country, folk, and rock flavored tunes, the contributing musicians shine throughout, led by Michael Dowdle's burning lead guitar lines on rockers "Feels Like Home" and "What's a Guy to Do," and his tasteful mandolin phrases on "Never Forget" and "Where Does All the Money Go." Dave Pearlman's lap and pedal steel playing covers the gambit, from raw blues riffs to cry-in-your-beer melodic fills. Some perfectly placed background vocals, provided by Gary Falcone, Batstone, and Arlene and Bill Kole, add to multi-layered tracks that never get in the way of each other. Batdorf also engineered and mixed the entire album, knowing just what balance of sound his arrangements called for.
Beep Beep is quite a pleasant listen, sparked by Batdorf's songwriting, arranging, and storytelling skills; he may not be a household name like Jackson Browne, Bruce Springsteen, or Roger McGuinn, but he's right on par with any of them.