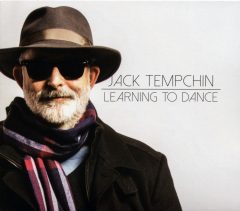 Jimmy Webb, Cynthia Weil, Lane Tietgen, Jack Tempchin? Anybody recognize these names? Probably not, but you certainly may know the hit songs they've penned for a number of well-known artists, including Glen Campbell, the 5th Dimension, the Animals, the Righteous Brothers, Ringo Starr, Manfred Mann, the Eagles, and Emmylou Harris.
San Diego native Jack Tempchin may not be a household name, but two of his songs, "Already Gone" and "Peaceful Easy Feeling," became monster hits for the Eagles in the 1970s. The full spectrum of his work does not stop there, as his eclectic lyrical skills stretch into the country, pop, and folk idioms with notable artists including Tom Rush, Glenn Frey, Trisha Yearwood, George Jones, and Emmylou Harris having all recorded his songs.
Tempchin's latest CD, Learning to Dance, is his debut release with Blue Elan Records, a 12-track disc of original tunes, with Tempchin front and center on guitar, piano, and lead vocals. As with most songwriters who have garnered more notoriety as authors rather than recording artists, he makes no bones about that predicament:. "With this CD," Tempchin professes, "I'm looking at myself as a new artist, and with these new songs I'd like to be accepted based on them. I don't believe in living in the past."
Tempchin called on fellow musician Joel Piper to serve as a one man wrecking crew in the overall production of Learning to Dance. Piper, primarily a drummer, not only produced, recorded, and mixed the project but also played most of the background instruments, other than a mellifluous sax solo on the title track by Jerry Peterson. Piper also provided all the background vocals, other than the impressive vocal duet with Tempchin and Kim Richey on "Nothing With You."
Tempchin sets a variety of musical moods with his tasteful piano-based ballads, "Living This Love," "Love's First Lesson," "You Can Go Home," and "Big Sky Country," his catchy Brazilian guitar based "The End Of The Affair," his cry-in-your-beer tender country tracks "What If We Should Fall In Love Again" and "Finally Found Me," and his slick pop style production on "I Volunteer" and "Room to Run."
His vocal range and quality is what it is, as he cut to the chase in a recent interview: "I hope I'm improving as I tried to put my vocals into a more relaxed range," he stated. That being said, as I listened to the masterful songwriting, the uncluttered production and pleasant musical arrangements throughout Learning to Dance, the echoes of other successful artists in the same ilk came to mind, spanning from Gordon Lightfoot, Johnny Cash, and Leonard Cohen to Kris Kristofferson, Hoyt Axton, and Neil Diamond. Not bad company to be mentioned with.
Jack Tempchin will open for Chris Hillman and Herb Pedersen at AMSD Concerts on October 17. www.amsdconcerts.com