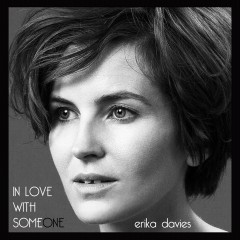 When I was invited to attend Erika Davies' show in May at the newly renamed Balboa Bar & Grill, formerly the Tin Can Ale House, I was thrilled to learn that the singer was slated to perform all eight tracks from her latest album In Love With Someone. Davies had sent me a copy of the CD, so that I could familiarize myself with the material and review it. However, having the privilege to watch her bring these gems to life, by way of her performance that night, gave me one more reason to celebrate the notion that this woman is absolutely "in love with someone."
Davies is a true romantic who demurely wears her heart on her sleeve. With a little help from guitarist Aaron Mahn, bassist Jeremy Eikam, and drummer Chris Carroll, the trio that collaborated with her on the recording of her CD, Davies debuted her new songs to a very enthusiastic crowd that spring evening.
The album opens with "Here to Find Love," unveiling Davies' discovery to find that the elusive butterfly, "this crazy little thing called love," is much closer than she anticipated.
Davies has seemingly taken a few, musical cues from the late Amy Winehouse on the rollicking "Calamine." Fostering her own firebrand of rhythmic, vocal phrasings with this, the song is the kind of aural dessert the bee-hived Queen would have served up as the main dish on the blockbuster Back to Black, had she been provided this while recording the album that catapulted her to international stardom.
On the title track, "In Love With Someone," it's no secret that the main squeeze at the center of all that affection is the same one who accompanies this lovely lady in real life. Davies is back in business, a trillin' and a thrillin,' on the sassy "Sweet Lil' Devil." This is where she truly shines as a vocalist, shimmering in the illumination of a bygone era that witnessed Al Capone and his henchmen waltz right past law enforcement, "guarding" the front door of an uptown, Chicago speakeasy.
"My Funny Valentine" gets the star treatment from Davies' interpretive spin on a timeless classic. It is a real joy to be privy to what the songbird is capable of accomplishing with a much cherished, popular standard. Though love's great surrender is a splendid thing, as revealed in "Neon Love," one must always be aware of the pretty, flashing lights associated with an emotion known to blindside the sagest of men.
By the time the listener reaches the final track, "So This Is Love," it is more than obvious that Miss Erika Davies concedes what we've realized all along and that it's very beautiful to be In Love With Someone.