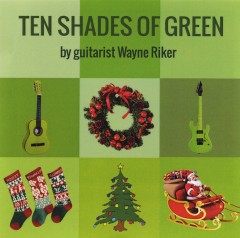 Wayne Riker is a generous soul. He loves to share the spotlight with other talents on his CDs. He features ten other guitarists on his Guitar Decathlon compact disk and shows off a quartet of female performers on his Kindred Souls CD. His most recent effort, Groovin' with the Top Brass, showcased a great number of San Diego's finest musicians. Ten Shades of Green, his new CD of Christmas music, sees the San Diego guitarist returning to the studio for a solo effort like his first two CDs.
Everybody has a Christmas recording. Barbara Streisand has a Christmas record; even Bob Dylan uses his vocal gifts on Christmas classics. The world is so drenched with Rudolf and Reindeers that musicologists now use scientific notation to keep track of the ever increasing number of Christmas songs and recordings. So, what does Riker offer to distinguish Ten Shades of Green from the rest of the God Rest Ye Merry Rudolf the Red Chestnuts Roasting on the Partridge in a Pear Tree?
For one, there are no choruses resounding behind the guitar, no string section swelling during the intros, no French horns, no tubular bells, no charming celestes giving you the musical equivalent of sugarplum fairies. You simply have the intimacy of a single performer with a guitar, with no sweeteners and no overdubs. And one of the things that I have appreciated about his previous solo work is how much Riker trusts the tune and trusts the listener. With this CD, as with his previous solo work, he keeps the temptation to overplay at arm's length.
Riker is well known for his series of blues instruction books and recordings. If you want to know the blues or learn to play blues guitar, Riker is your man. And so it seems fitting that so much of this recording is based on or is influenced by the blues. Riker gives us an alternately rocking and bluesy "Rudolph the Red Nosed Reindeer," which might have all the other reindeer falling in love with him all over again. There is also a little blues inflection to an up tempo version of "White Christmas," in which Riker does some pretty snazzy chord soloing. And it's blues all over the place for "Silent Night," which might be my favorite tune on the disk. Riker pulls out all the stops for a metal-inflected take on "God Rest Ye Merry Gentlemen." He even throws in some reverb effects.
For about a year now, I've been handing out demerits, one and a half demerits, for CDs that clock in under 30 minutes. Ten Shades of Green clocks in at 25. I know that a policy is a policy, but holy guacamole, it's Christmas. Demerits are reduced to half for a Christmas recording that is at times sweet, at times fun, and at times the perfect thing to put on the player when you're sipping that eggnog or have those chestnuts roasting on an open fire.