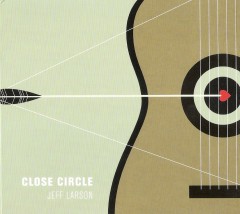 In 2012 Jeff Larson released The World Over, a CD of smooth alt-country harmony pop that landed comfortably among the music of acoustic-harmony saints Crosby, Stills and Nash, the ballads of the Eagles, and the single-hook tunes by America. No surprise, since Encinitas resident Larson has connections with Eagle Timothy B Schmidt and his daughter/ singer Jeddrah, as well as musician/engineer Hank Linderman, who engineered and played on Eagles and Schmidt albums, among others. Both members of America helped with the playing and writing on the disc as well.
Well, Larson is back with Close Circle, his 12th release, and he brings along all of these friends, plus Jeff Pevar, who has toured and recorded on various guitars with CSN, Joe Cocker, James Taylor, and a long list of others. With all these heavy hitters and three different studios, Larson remembers to ride the horse that got him here: mellow soft rock with acoustic instruments and lots of harmony. Sure, it has been done plenty before, but he does it well enough to make it work.
After "Rescue Me," a short, slow opener that doesn't catch fire, "Following the Echoes" makes up for it. A neat acoustic riff lays down a good groove that is soon filled by Larson and backing harmonies with wistful lyrics about a past relationship, "Under sun-beaten palm trees." "Every Hour on the Hour" is a highlight that is a step or two away from the SoCal close-harmony sound of the other tracks. It has an airy hook that floats, but Larson sings the choruses over the top of sharp background vocals in a great arrangement that might be closer to Fleetwood Mac's smooth, layered '80s hits than anything alt-country. Think "Sweet Little Lies," with a male lead singer and no
synthesizers.
Larson is back in Eagles territory with "Goodbye Ocean Street Beaches," which is a slow-tempo, pile-on-the harmonies exercise that recalls tunes like "The Sad Cafe," a really good song with ear-catching lap steel accents by Pevar. For "Rain Soaked Cloud," Gerry Beckley of America co-wrote, and he and Dewey Bunnell (the other half of the group) add backing, with Larson's lively ukulele strums adding an interesting counterpoint to ominous minor keys and verses like "Never planned to fall/ Always thought this love would last/ There's no time to talk/ There's no winning either way." On "Always a Mystery," the mood stays dark as Larson, surrounded by dobro riffs and smart female backing harmonies by Jeddrah, warns of ominous signs. Larson rolls up his sleeves on "The Lay of the Land," about "the fruit from the hand that knows when it's ripe," and other lyrical touch points about getting back on the farm. The tune is simple, departs from the harmony hymns elsewhere, and Pevar's work on mandolin and dobro add a rustic touch. The disc includes an alternate mix of "Every Hour on the Hour," with acoustic guitar replacing some brief electric on the remix.
Close Circle does not break new ground, but finds Jeff Larson doing his catchy, soft harmony thing to near perfection.