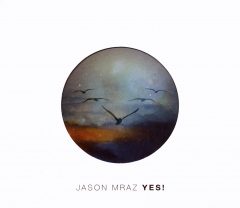 Most if not all Diego music followers know that Jason Mraz has repeated Jewel's earlier feat as a local singer-songwriter going from San Diego's coffee house scene to the top of the national charts. Not an easy feat, and no surprise, Mraz has become both hugely popular with listeners and one of the more imitated pop singers in the land; of five monster-selling studio discs since 2002, the last four have placed in the top five on Billboard's Hot 100.
One of those five is Yes!, his latest, released in mid July. Mraz' music on previous discs has been successful in part because, while staying within adult contemporary, soft-rock he varies flavors enough from song to song and even album to album to keep the audience interested. He can play and sing a song with a Caribbean pulse, flex to one with almost somber gospel atmosphere, and then land in infectious pop territory – maybe with his ukulele or acoustic guitar laying down the main groove. Nothing too heavy, all of it upbeat and catchy.
The generous disc has 14 tracks, and for this album Mraz has the all-female quartet Raising Jane as his backing band and, for 11 of the tracks, credited co-writers. Depending on the tracks, their contributions include superb backing vocals, electric guitar, cello, sitar, bass, and drums. "Love Someone" shows that though this is a largely acoustic affair, the layered sound is anything but stark, the Jane singers give Mraz a soaring carpet of smooth harmony that helps lift his song a notch – on this and many of the other tunes. He has a talent for crafting singles with hooks, and "Long Drive" certainly qualifies. Mraz sings harmonies all the way through, about "Drive a little slow, don't matter where we're goin'/ As long as I'm with you, we can take the long way," and somehow, his lyrics (about there being no defrost and steaming the glass) make the this one ring true: most of us have been there – plus, it has a melody you can't get out of your head.
Mraz has a rep for quirky lyrics, and this disc's candidate is "Everywhere," a pleasant pop rocker that finds him singing "I'm deep within the molecules in the air that you breathe," and other existential metaphors as an expression of his limitless affection. "Out of My Hands" clicks with a toe-tapping island beat, driven by acoustic guitar strums and nifty backing vocals for a highlight. Mraz looks at himself for "3 Things," again building on an infectious mandolin/banjo hook with some words about dealing with disappointment with some typical Mraz optimism. This returns again in "Back to the Earth," which is reggae-lite with save-the-planet lyrics about how we are all wild animals that started at the bottom of the ocean. The disc wraps with an unusual, six-minute track, "Shine," which works an almost dark riff with sitars, conga percussion, cello; about sharing love in metaphysical terms; this tune takes some surprising turns.
Mraz's many fans, and lovers of good singer-songwriter pop should find Yes! irresistible.