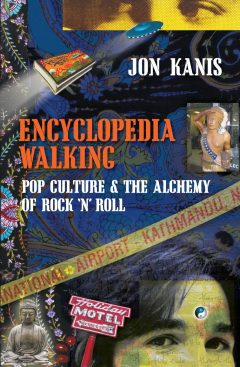 I've spent the last few days thumbing through, stopping, and slowly reading, then absorbing and re-collecting personal memories of the legendary musical encounters of Jon Kanis' prolific and prosaic take on his life in music over four decades in his new book. The San Diego writer comes from his own self-tailored and well-crafted tradition of rock journalism and artistry. The title, Encyclopedia Walking: Pop Culture & the Alchemy of Rock 'n' Roll, is probably more apt for the readers it will attract than for the author himself who goes beyond just the categorizing and assimilation of information to the realm of applied wisdom and spiritual insight based on lessons learned from Zen practice and astrology in a post-modern world very different from the place from where many of his journalist heroes emerged. Kanis is more roshi than he is encyclopedic sponge here. He is at once the camera lens then his words become a window into the larger world where our love of music as a transforming experience emerges from. But for those of us who have worn the title of "walking encyclopedia," usually imposed by well-meaning friends, there is a multilayered series of lessons to be learned from Kanis' book in terms of knowledge, life experience, and spirituality brought to the field in ways not often explored by other rock journalists. He is not just a fan, but a disciple of what Pat MacDonald (formerly with the band Timbuk3, which had a hit with "The Future's so Bright I Gotta Wear Shades"), in his Foreword, calls Kanis' "persuasive case for the Holy Trinity of Words, Music, and Beat as a world-changing force."
In the beginning, when rock was young, roughly around 1966 through 1970, fans didn't know any better than to take any one part of the strand of musical passion and find the whole. There were no clean categories, genres, or designations keeping all things safe, contained, and commercially viable. While the genesis of the journeymen of music literature into print form happened in the mid to late '60s, the spiritual process is linked rightly in Kanis' book, to Zen masters, mystics, and myth writers followed by the Beats of the '50s, Lenny Bruce, the Bebop of Miles Davis, Charlie Parker and John Coltrane, and Dylan's glorious breathtaking break through on his own triune pop music triumph: Bringing It All Back Home, Highway 61 Revisited, and Blonde on Blonde. While the natural turn 40 plus years ago was to round the bend into intellectual astuteness in the written expression, Kanis takes us through spiritual terrain that is most often more consistent with the subject matter than the cerebral terrain preferred by music journalists of times past. This does not preclude him from intellectual insights, however. Indeed, the book should be a welcome addition to any student of rock 'n' roll, be they writers, musicians, or just fans of the form and its most iconic heroes.
When Rolling Stone was still barely beyond a roadside rock rag barely keeping up with what was happening underground, down back alleys, and the garages of America joining with the local bands pounding out the three-chord hysteria of "Gloria," were the patron saints of the literary standard, well chronicled in this book. It took writers who knew the music from the inside out, like Paul Williams and Lester Bangs, who also knew how to read and read well and had the heart to follow the spirit of connections through their own knowledge; the sometimes dark-spirited scribes who documented not in the superficial impressions, the soul of the music into literature and turned that into its own art form. So it stands to reason that among exquisitely portrayed essays and stories of first hand-experiences in London at the Concert for George, for Harrison's legendary memorial concert; a finely thought out and felt tribute to John Lennon; and a review of a recent collection of Beach Boys reissues, there is the chapter titled "Scribe of the Tribe: The Ballad of Paul Williams," for the pioneering rock journalist who started the landmark publication, Crawdaddy, in a basement in Brooklyn, New York, in 1966 and died in San Diego in 2013. This marks a kind of revelation for this writer who can remember picking up his first copy of the magazine in Hermosa Beach in '67 and reading the first well-written article on the Doors, as well as I can remember the day JFK died. For Kanis, and as it most likely is for many who will be drawn to this book, figures like Williams are simply another side of the multifaceted diamond we find in many of the major rock icons of the last 50 years. In his essay on Williams, which includes his "Engaging in a Form of Prayer; Remembering Paul Williams" piece originally published in the San Diego Troubadour, the rock journalist is portrayed as an exceptionally well-drawn character outtake who was somehow out left out of Kerouac's On the Road. And the very icons, like Dylan, Neil Young, and Jimi Hendrix, who we've grown so accustomed to knowing through the impressions and memories of them filtered through the publicity driven media outlets, are re-drawn into fully dimensional humans. It's all done with literary skill and spiritual insight rarely touched upon in today's music journalism. In this sense, much of what is laid down here is a work of restoration.
Encyclopedia Walking covers well his experience in music journalism in terms of depth and breadth that is worth of the form. While his inspiration as a writer is the likes of the finest of rock journalists of time's past, his approach is derived from his own vast life experience fueled by his passion for the popular music cultivated over the last 50 years. But, as revealed in this book, it is not just a process saturation, but the giving back of popular music in his own studio work, most recently released his anthology All-American Mongrel Boy (1989-2014), collection that demonstrates that fans need not be passive but can learn from their teachers in the most successful ways. He was also one of the producers of the archival classic DVD, The American Blues Festival series, for which he was nominated for a Grammy award; the director of the excellent Soulsville U.S.A., a film series now on permanent display at the Stax Museum of American Soul in Memphis; and has had extensive experience as an archivist and consultant for the Rock 'n' Roll Hall of Fame. But, as he makes clear in his introduction, there are spiritual undercurrents at work that transcend what his notable mentors have accomplished.
Encyclopedia Walking is a to-the-bone, walk-the-talk work of literature that informs and transforms with continued reading. For anyone who currently writes about music or is considering it as a vocation or avocation, it is essential reading along with the works of Lester Bangs and Paul Williams. For those who love both the music and its makers and have general knowledge or even the most detailed knowledge of rock 'n' roll history, this book will open new avenues, reveal new insights, and offer a world view that is refreshing, optimistic, and filled to the brim with passion and love for the transformative power of music.