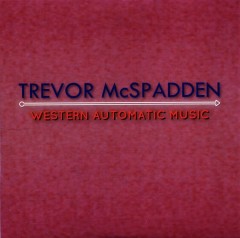 Lately, many big-time male country music singers often seem to be more and more an interchangeable group of hat-wearing hunks whose music is too often a glossy mush of similar, mediocre songs about pickup trucks, beer, and Levi-clad bar babes. The old honky-tonk songs were about the hard, blue-collar life on the road and heartbreak; the central characters were outlaws and antiheroes, and sad ballads were often the norm. Trevor McSpadden is a welcome throwback to that old, classic style on his EP Western Automatic Music.
McSpadden is a Texan who established himself in Chicago in the middle of the last decade, writing and singing music similar to the Texas hill music he heard as a kid, including George Jones. His gigs there included work as lead singer of the Hoyle Brothers, while more recently he has been gigging regularly in the San Diego area. The new disc was recorded Austin, Chicago, and Nashville and
"Empty Arms" kicks things off and is a glitzy as things get on this disc. Likely the radio track here, the fluff in the arrangement is countered with McFadden's steady vocal heft; it ultimately clicks with a catchy, rocked-up bridge and slashing pedal steel riffs. The crack, uncredited band gets down to business with "Somebody's Gonna Cry Tonight," a hard boiled country rocker that trumps the opener and is a highlight. McFadden lays down his honky-tonk credentials in "Better Off Alone," a good, slow-tempo heartache saga that finds him singing the woes of his loneliness: "Must be somethin' wrong with me/ To turn my heart to stone." Another brisk rocker, "Lyin' Again," shows that McFadden and band can punch these out with flair — "Cry Tonight" wasn't a fluke.
The arrangements and instrumentation belie the disc being recorded over a two-year period at three locations, but all of the tunes put McFadden's best attribute forward: his voice. There is a faint echo of Jones there, but more of a twang, while he has the same comfort and authority. On "Ready to Get Hurt Again," he cranks out another winner, as he has a tremendously catchy guitar lick hook — and works it perfectly, while he tells the girls he's ready for them to pour on more abuse and heartbreak. He closes out with "I Just Knew," a pleasant ballad that features the kind of wordplay that classic honky-tonk is known for: "An' I don't make it easy/ Neither do you/ 'Cause Darlin' I just knew."
Western Automatic Music is an impressive introduction to Trevor McSpadden's ability to write, play, and sing country music. He and his songs don't seem to fit the modern mold, which may be a good thing.