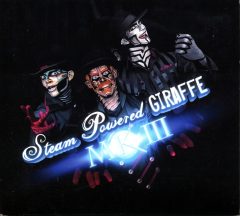 Reviewing a CD by Steam Powered Giraffe is a challenge. The 2009 debut disc Album One from the mime/steampunk/comedy/music group was a delightfully quirky mix of crisp songcraft with close harmonies and zinging theatrical flourish. Since then, the band has retained two original members while trimming to a trio and released another studio album, and a live disc. Their new CD is MK III and this is where the challenge comes in: it is more of a show than a CD. The listener gets a CD of steampunk robots doing schtick and a whole lot of slickly produced music, all about the act and
The band is Spine (David Michael Bennett), Hatchworth (Sam Luke), and Bunny (Christopher "Bunny" Bennett), the core members of SPG, with Michael Reed adding various instruments. This is a project that has a 32-page lyric booklet in its triple-foldout cover, with a color-coded key to tell who is singing the verses of each song and artwork that is a sight to behold.
No surprise, there is a lot of music, 16 tracks lasting over an hour, dividing up the writing among the core members. Never dropping out of character for a second, the music is performed like a troupe: as if expecting the listener to be familiar with the three characters doing the singing, they trade verses again and again between choruses of velvet-smooth, deep harmonies. Repeat listening helps (as does approaching it like a musical show). Many of the songs are catchy and hook-laden, starting with "Steam Powered Giraffe," sort of an introduction. "A Way to Your Heart" is keyboard/guitar SPG-style show tune: first an intro, then picking up the beat with harmonies as bridges and verses are traded off by the three excellent lead singers, in character. "Ghost Grinder" also starts slow and mysterious, then explodes into a charging dance song with electronic, funk, harmony, and keyboard elements, marvelously well arranged. "Please Explain" is hummable power pop, positing the question, "Left in the dark, what's an old robot to do?"
Not everything clicks; "Hatch Fever" is burdened down by sonic gimmicks, "Go Spine Go" is more of a gag bit than a song, and "Turn Back the Clock" has way-overwrought keyboard strings.
Musical styles abound. These are seasoned musicians who jump genres at a pop, as with "I'll Rust With You," which is a rich piece of '50s doo-wop à la the "Happy Days" theme. It isn't all nostalgia, as "Wired Wrong" manages to pull off a mid-tempo ballad with some real emotional tugs – maybe it isn't just robots whose "brains are all wired wrong." Don't take things seriously for long, though, here comes a reprise to "Steam Powered Giraffe." In Japanese.
The success of a project like MK III, so anchored to a fantasy theme, depends on a strength of the material, and there are enough strong tunes to snag the listener into the unusual, wacky show that is Steam Powered Giraffe. And don't forget, this doesn't include the mime bits and the outfits.