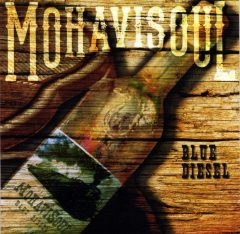 San Diego's Mohavisoul had a winning bluegrass formula on their last EP, Every Second. Mark Miller and Randy Hansen's band stick to an old-school approach on their new one, Blue Diesel. This is old grass, with themes and instrumentation that harken back to the hill music that got this whole genre started — and if the music doesn't get that message across, the jewel case has artwork with an aged mock-up of an old local newspaper with the songs' lyrics on one side. Message received.
Both Miller and Hanson wrote the six songs and sing lead, with Miller on guitar and Hanson handling mandolin. Other vocals come from Jason Weiss on banjo and Orion Boucher, whose string bass is the pulse of the acoustic outfit. John Mailander fills the fiddle slot on this disc.
This is, front to back, solid, enjoyable bluegrass sung and played by pros. "Wanted" finds Hanson on the run from the law, lamenting to a lover: "I didn't plan this sweet embrace," to sweet harmonies anchored by his mando licks. Next, Miller's "Full Moon" drifts a bit toward a straight country-pop, but is catchy nonetheless. The title tune is probably the best of the strong lot, with tight harmonies; Hanson is leaving a lover, "Sergeant Pepper took me for a ride/ Layin low and flying high," and this train blows pot smoke circles but he'll remember her "Sativa smiles." An instrumental, "PCH", lets the cats stretch out-a minor quibble is that these guys are all aces.
Blue Diesel is good, old fashioned bluegrass-straight up, no chaser and it is very satisfying.