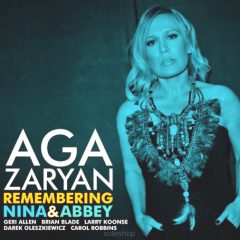 When it comes to jazz singers, Nina Simone and Abbey Lincoln are often given short shrift. Both women, born in the 1930s, matured into their professional careers after the heyday of swing and big band. No matter their considerable talents, they were always in the shadows of the women singers who came before them. When you think of jazz singers, Ella Fitzgerald, Anita O'Day, and Billy Holiday come to mind. See what I mean?
Simone and Lincoln also entered a post-bop jazz world that was at once desultory and thirsty for change and broader horizons. As such, both women became known for their willingness to experiment and challenge their listeners. And as they performed concerts and recorded in the sixties and seventies, in the wake of freedom marches and civil rights legislation, their musical performances were ripe with social commentary and themes of civil rights.
With a collection of excellent musicians, European based singer Aga Zaryan has released Remembering Nina & Abbey, a CD that pays tribute to these talented and often overlooked women. This is a long-overdue homage, and Zaryan's collection of 13 covers is a rich and most enjoyable recording.
Zaryan is an excellent singer and an amazingly deft interpreter of these songs. The internationally recognized jazz performer has an absolutely beautiful voice and is gifted with lithe vocal agility. She also possesses a range of expression that carries the listener through these 13 selections, from the innocent "Beautiful Land," to an almost lackadaisical interpretation of Simone's "My Baby Just Cares for Me," to the graphic and gut-wrenching depiction of black lynching in the South that is the subject of the song "Strange Fruit." Informed by the jazz singers from generations past, here Zaryan incorporates some of the phrasing of Lincoln and Simone. She also sings with a touch of more modern influences. I hear a little bit of Joni Mitchell from time to time.
Zaryan employs a jazz quartet of Darek Oleszkiewicz on bass, Brian Blade on drums, Geri Allen on piano, and Larry Koonse on guitar. Joining the quartet on a few tunes is harpist Carol Robbins. The harp adds a wonderfully ethereal quality, particularly on "Wild Is the Wind." The production quality of the disk is also totally pro.
We expect our musicians and artists to go out on a limb, at least from time to time, and here, as a reviewer, I might be going out on a limb myself by saying this, but I'll go ahead with the out-on-a-limb thing. Okay, here goes. I appreciated Zaryan's interpretations of these tunes more than those of Simone and Lincoln. Yes, I know that I'm talking about Abbey Lincoln and Nina Simone, and some folks might think that I'm committing heresy here, but you heard me right. Zaryan is that good. This is an outstanding recording by a truly dynamic performer. I could not endorse Aga Zaryan's Remembering Nina & Abbey more highly.