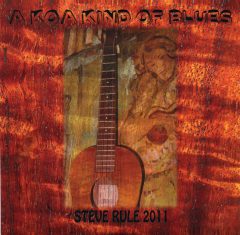 What sets North County blues guitarist Steve Rule's A Koa Kind of Blues apart is the playing of the late Steve White, who guested on the disc before his passing in April 2011. The CD is a friendly brew of eight tracks: four blues standards with four originals. Recorded by Thomas Yearsley (who adds bass and pedal steel), with Rule singing and playing lead guitar; this is a loose project with a jam session feel and with harp contributions from Billy Watson and Lance Dieckmann.
Early on, Rule lays down some solid 12-bar blues covers, playing a nicely measured, good-lick vocabulary and fat Gibson tone on the first four tracks. Albert King has been a favorite of blues cover players since early John Mayall and his "Everybody Wants to Go to Heaven" is the best of these tracks. Another track that just about all bluesmen pay homage to, Hubert Sumlin's "Reconsider Baby," is here as well.
The first original, Rule's "Used to Call Me Baby," is White's first showing as well. On both acoustic and electric slide guitar, the long-time one-man band from Encinitas lifts this tune to another level, with surging bottleneck chords that rise to blend with Rule's best solo. Delbert McClinton's "You Were Never Mine" follows and is more of the same; these two are the highlights. The disc closes with a Hawai'ian style jam that features Rule singing and playing ukulele, with White on acoustic, and Yearsley pedal steel.
A Koa Kind of Blues is a fun listen, a taste of Steve Rule's music and a remembrance of Steve White's blues mastery.