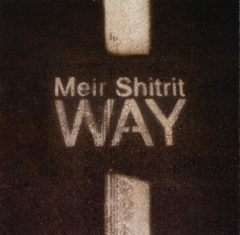 Israeli guitarist Meir Shitrit's San Diego connections include his ukulele and bouzouki session work with the Teagan Taylor Trio. Playing guitar, bouzouki, saz, and lap steel on his debut CD, Way, he mixes world music and smooth jazz elements in a dozen interesting original songs. Recorded in Israel with a cadre of capable session men adding horns, keys, strings, and vocals, Shitrit's music often shoots for an ensemble sound that marches out several musical ideas in the space of a four or five minute selection. While he can (and does in spots) shred impressively in the solo spotlight, the aim of this disc seems to focus on the songs first and his licks second, with lighter-than-air scat-sung vocals and percussion often dominating the melodies in the early tracks.
"Shepherd's Melody" opens, a good example of the music here with a hook laid down with guitar and flutes, and airy vocals floating in the mix. There is room for a drone instrument, some scatting, and nifty percussion that give the tune a bit of world music vibe. Shitrit opens "Blue" with some warm finger-picked acoustic guitar figures, and it settles into another light and mellow exercise, as piano and harmonica join a chorale of soaring vocalists chanting la-la-las, while a few glimpses of guitar soloing can be heard scampering in the mix. The same holds true for "Waves," this time with Shitrit playing electric guitar and laying down a more pronounced melody line.
The disc's second half gets better, and "Spirit of India" marks a departure of sorts. Over the ever-present, steady heartbeat of world beat-flavored hand percussion, Shitrit and violinist Pavel Levin weave an exotic spell with unusual scales on guitar, saz (a Turkish baglama lute), and lap steel that break out of the smooth jazz pattern. Between bridges that sound orchestral, the arrangement has haunting echoes, some exploratory excursions and conversations – it's a standout track. The world music feel is sustained on "Jaffa Nights," which also eschews the floating vocals in favor of Shitrit and Levin trading Phyrgian-flavored licks. The interesting hodge podge pulls in, at various points, wah-wah, overdriven electric guitar, bouzouki, and both nylon and steel acoustic guitar; these are all playing a jazz song with a funk riff on world music instruments, and it works.
Shitrit and company settle into more of a jazz groove for "Playin' Around," a satisfying, stripped-down fusion number that features a scorching, fuzz tone solo with legato phrasing that recalls a less busy version of Al DiMeola or Mike Stern. "Noise" blends some fascinating straight jazz scale playing by Shitrit with a funk beat, these are melded into a song that is a return to the "floating melody" flute/ sax smooth jazz-style; it moves in increments back and forth between smooth and funk, as Shitrit is able to shade his solo lines dark or light at will. Meir the shredder is back on "Down Town," which has some Larry Carlton DNA.
Way is one of those albums that will be of interest to jazz guitar fans who want their music with a world music twist.