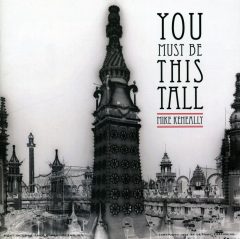 Forget everything about what you think rock 'n' roll, jazz, symphonic orchestral scores, or perhaps even what the avant-garde are all about. As the title of Mike Keneally's latest assemblage You Must Be This Tall suggests, this is not a work for the immature, insecure, feeble-minded, or under-developed. It might also require the patience of a wise, educated soul or an open-minded Zen neophyte (or perhaps a combination of the two) to appreciate the heady brew that spews forth from the fount of San Diego's most consistently brilliant musical maverick.
There has always been a part of Keneally's compositional makeup that rips pages wholesale from the textbook of his mentor and bandleader Frank Zappa (i.e., the orchestral splendor of Zappa's Läther, the Grand Wazoo, and Uncle Meat crossed with the improvisatory guitar explosions of the Shut Up 'n Play Your Guitar series), spliced together with a deconstructionist bent that can't help but express its composer's deep and abiding love for the Beatlesque pop of XTC. Combine all that (and much more) with a truly magical X factor and you have the mark of a true original.
You Must Be This Tall is largely an Odds and Sods-type compendium of songs that couldn't (or wouldn't) find a home amongst the various projects for which they were originally conceived. But destitute orphans these tracks are not. The introductory title song sounds very much like the overture that it is, having been commissioned for the Netherland's Metropole Orchestra. It is majestically glorious, which is true of most of this album.
A few of the tracks ("Cavanaugh," "Kidzapunk," "Pitch Pipe," and the utterly epic "The Rider") were conceived while Keneally was out on tour with Dethklok and Joe Satriani. "Indicator" is an outtake from the sessions with Andy Partridge that produced last year's staggeringly beautiful Wing Beat Fantastic. The ultimate track on the album, "Glop," sounds exactly like THAT: a sonic dog pile that shreds and snarls and melodically challenges you at every twist and turn (or eight bars). It's either confounding and/or exhilarating.
Sure, there are bursts of super nova conventional rock music for 24 bars before being swept into a serpentine deconstruction of time shifting – four bars of 9/8 – four bars of 4/4 into two measures of atonal scales that slide back into the "rock" section once again. You better have a flexible pelvis if you intend to dance to this stuff.
You Must Be This Tall is a dense and mystifying piece of work whose dividends may not be immediately accessible. It could take ten spins (or more) before any of this stuff starts to make sense. I'd file it under Uneasy Listening. But I'd also add that it is well worth the effort. Meet this album half way and you'll be grinning like a savant in no time. Kudos to Mister Keneally. What will he come up with next?