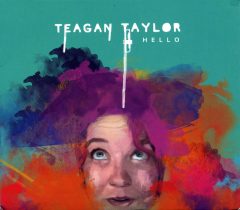 Fallbrook's Teagan Taylor Trio is built around a family nucleus that includes singer/horn player Teagan, her twin brother Dylan on bass, and dad Tim on guitar. The group has released their third CD (as Teagan Taylor), Hello. For this project the core members are assisted by Duke Ventura (drums), Ed Kornhauser (keyboards), Dave Burnett (sax/alto flute/clarinet), and Meir Shitrit (bouzouki/ukulele). The slick recording job by Dave Blackburn at his Beat 'n' Track studio includes some of his keyboard contributions.
Ten originals, most written by Teagan and Tim, offer an interesting range of styles within the jazz/pop genre: there are tunes with a reggae pulse, some with funky R&B or Latin DNA, and smoky club jazz.
The first track is "I Dig You," which explains why the album is attributed to Teagan Taylor; on this and the subsequent tunes her vocals are the thing that sets this disc apart. After the first few seconds – this has been mentioned by several reviewers – many listeners will notice a vocal similarity to Norah Jones; once that has passed, Teagan has a delightful, clear instrument that takes the opening track from reggae verses into smooth keyboard bridges that eventually have her soaring effortlessly. She is also skilled beyond her years on trumpet and cornet, and the title tune, after making her stretch hard for the low notes of the chorus, finds her playing a nicely understated trumpet solo; there are spots on this track and others with cool horn charts (by Tim). "Don't compare me to some unattainable idol/ That I'll never be," she sings, yearning for a day when "No means no/ And an enthusiastic yes means yes" in "Wishful Thinking," as a catchy jazz hook is augmented by horns and flute, helping flesh out this disc highlight.
"One" is another strong cut that has a combination of keys, horns, and percussion drawing from sources like War and Santana, and it cooks as Teagan sings, "I'm the moon, you're the sun/ Together we are one" while Tim lays out crisp Santana riffs in all the empty spaces. It's back to a reggae beat for "Him and Her," and this tune is given a boost by ace uke work from Shitrit. Teagan has some advice for a narcissistic partner in the bluesy "Take a Look at Yourself" and follows her dad's clean guitar solo with a cornet break of her own. "Flying Machine" is a great pure jazz offering, flowing like silk and giving Teagan a chance to shine both in her superb, sultry vocal and on a tasty trumpet solo. It is the disc sleeper, maybe the best song while buried in the eight tracks into the program. The disc is dedicated to Jim's departed father, and "So Long, Pops" is the instrumental finale, with all on hand getting a chance to flash their chops.
Hello is certain to please those familiar with Teagan Taylor and the Trio, and to win new admirers with its eclecticism, tight musicianship, and Teagan's formidable vocal talent.