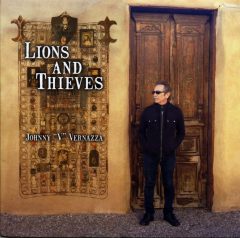 Johnny "V" Vernazza is a veteran guitarist with a pretty large musical footprint than. If you turned on the radio or otherwise listened to a lot of music during the seventies, this electric slide player provided you with a large part of the soundtrack of your life. Commander Cody and His Lost Planet Airmen, Gregg Allman, Chuck Berry, Bob Brozman, Steve Miller, Charlie Daniels, George Thorogood – Vernazza recorded with all of them, as well as a number of other prominent performers. He recorded half a dozen albums with Elvin Bishop and can be heard on the 1976 hit "Fooled Around and Fell in Love."
A Bay Area native, Vernazza has made his home here in San Diego for the last decade and performs locally from time to time. He played the zydeco/Cajun/ blues fest Gator by the Bay in 2011, with sets that included performances by Elvin Bishop.
Vernazza has always thought of himself as a sideman, shying away from the spotlight of leader. He had spent decades as a musician before he released a CD, Jungle Out There, in 2009. Now he has followed up that effort with Lions and Thieves, a collection of 14 blues-based rockers that brings back the days of screaming guitars and extremely loud amplifiers. From the opening tune "Oh Olivia," with lyrics that admonish us to "turn it up to ten" Lions and Thieves is not about subtlety or sweetness. It's about rock and roll. Like David Bowie on his Ziggy Stardust opus, Lions and Thieves is to be played at maximum volume.
Vernazza gathered some great talent for this recording. The band is solid, with Jim Reeves on bass, Brian Cantrell on drums, and Mark Bentley on keyboards and harmonica. The group has that full, high-powered sound that makes you think of the Allman Brothers Band or the sound that Marshall Tucker achieved with his group in the late seventies. A large roster of talent contributed additional guitars and other instruments, and a few of the headliner talents with whom Vernazza has recorded make appearances on this CD. Albert Lee provides guitar solos on the barnburner "Run Little Evie" and the country-influenced instrumental "Daly City Breakdown." Charlie Daniels also contributes to "Daly City Breakdown" with an electrified fiddle. Elvin Bishop lends his distinctive slide guitar to the title track "Lions and Thieves."
The 14 tunes total to over an hour of music, which suits me just fine. If you're going to put out a CD, put some music on it! I'm tiring of folks who put out disks with only 35 or 36 minutes of music. C'mon, why did we bother to invent CDs? Recorded locally at La Mesa's Stealth Studio and Rancho Bernardo's Studio West, Lions and Thieves lacks a great deal of presence in the high end. Even with the volume turned way up on my stereo, I had to turn up the treble way, way up before I could hear the cymbals.