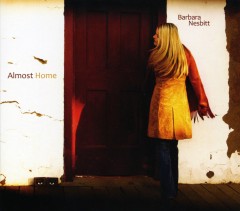 If Tennessee is truly the home of what we call country music these days, then this is the kind of record that ought to be coming out of Nashville. What gets typically categorized as "Americana" is simply shorthand for saying "country music before it was sanitized and pasteurized into something a bit more plastic and devoid of an organic soul."
It's funny how styles and trends continue to cycle around and it's cool to report that the latest offering by Barbara Nesbitt, Almost Home, has just the right balance between sounding crisp and clean in a modern way but still conveying the idea that everyone is in the same room together, enjoying the sound of wire and wood and communal down-home earthiness.
While there are a number of plaintive ballads throughout showcasing the amazing voice of Miss Nesbitt, the pulsating menace of "Like a Good Girl" easily impresses as the stand-out track on the album. Nesbitt's deliciously obsessed repetition evokes the voodoo mojo of Screamin' Jay Hawkins' "I Put a Spell on You," underscoring the potential menace that sits just beneath the surface of Nesbitt's not-so-quiet desperation. She needs the focus of her fascination to becoming reciprocal or… I don't know what she's going to do. She sounds like she'll do anything to land the object of her desire. Believe it.
Kudos to Jeff Berkley's immaculate production sits somewhere between Peter Asher's Linda Ronstadt and Bill Szymczyk's Eagles, particularly in the judicious use of the Sneaky Pete Kleinow-styled pedal steel guitar that perfectly complements the vibe and ties the ensemble together like nothing else can. The fiddle on "Never Been in Love" is barn-calling perfect in that "Settin' the Woods on Fire" kind of way.
The duets with drummer Bill Coomes are beautiful, in the tradition of George and Tammy (or Gram and Emmylou) and the richness of Nesbitt's voice is like honey poured across each and every one of these tracks. Whether the granola they hold together is made of substance varies from track to track — some songs recycle their traditions better than others. But Almost Home is always charming — sweet and lonesome with soul and verve.
Almost Home is stylistically bookended by the title track at the top and "All the Way," two-sides-of-the-same-coin that makes the record feel like it has come full circle. There are questions asked throughout the journey of searching for love and exploring your dreams and by the end Nesbitt is left questioning her beliefs and faith, with… "one hand on the door." But when "All The Way" resolves perfectly back to its home chord you know that you've arrived exactly where you belong. Lord only knows what she'll sound like on her next album, when (and if) Miss Nesbitt expresses the joy of finally finding that true love. Here's rooting for her.