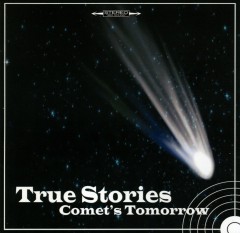 It doesn't matter what the brand name is, the revival/retro look and sound of Bart Mendoza's Secret Society continues unabated, as it pretty much has done for the past 31 years since the release of Manual Scan's debut EP Plan of Action. Over the past three decades Mendoza has churned out an endless stream of pop confections that draw extensively from the British Beat music boom circa 1965. There is, in fact, very little to suggest that the '70s, '80s, '90s or naughts ever took place based on the sounds of the latest True Stories EP Comet's Tomorrow. The members and monikers may come and go but the songs remain the same and the sonics are dependably consistent from what you have come to expect from the most prolific mod in town. If the keyboard-driven baroque pop of the Zombies or the Spencer Davis Group is your particular cup of tea then most likely you will enjoy this record. But don't blink… at a combined length of 16 minutes these six songs barely have time to say hello before whizzing past your ear and disappearing into the night.
True Stories was formed several years ago as a vehicle for singer/songwriter Wendy Bailey with Mendoza serving as sideman, but with Bailey's departure the quartet morphed into a continuation of Manual Scan and the Shambles, the two groups that Mendoza fronted with long time collaborator Kevin Ring. What sets True Stories off from those groups is the driving keyboards and occasional lead guitar work of David Fleminger (also former member of Manual Scan and currently of the superb duo, the Comeuppance) and the tight support of bassist Billy Fritz and drummer Danny Cress.
While Comet's Tomorrow might not qualify as Sunshine Pop in the Cowsills/Partridge Family tradition, it's hard to know what these songs are attempting to say. The lyrics suggest sound for their own sake and if it's profundity that you're seeking then you probably should shift your attention back to the cheerful bounce of the bass and drums (and the killer keyboards).
"Problems Of Her Own" is a concise collaboration with Mark DeCerbo of Four Eyes while "Bleeding," "In Your Arms," and "Comets Tomorrow" finds Mendoza putting music to the lyrics of Maya Morris. "This Wish" (co-written with Anna Troy) slips in a bit of self-plagiarism (and/or self-mythologizing) with a lyrical call back to the Manual Scan song "I Can't Don't Want To." The only solo Mendoza songwriting credit is "Hearts on Sleeve" and despite the lyrical clichés the song has a driving keyboard riff that is infectious and it's not hard to imagine hearing this track in a Northern English discothèque.
Comet's Tomorrow is another notch on the lamppost and the boys have done a fine job keeping the flame alive for another generation of style counselors. For anyone who feels like they were born too late and missed out on the '60s, fret not. True Stories are here to assure you that you didn't miss a thing.