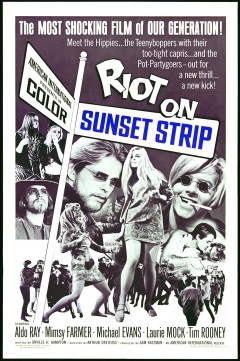 Out on the streets
That used to be neat
But now it's just a place for black and white cars to race
It's causing a riot
It's causing a riot!
Yeah! It's causing a riot
It's causing a riot!
Everywhere people running around
Riots everywhere
Pushing pushing pushing everywhere down pushing around
"Riot on Sunset Strip"
The Standells, 1967
In 1967, Los Angeles' legendary Sunset Strip was really a famous street connected by an intersection leading to the destinations of fantasy and reality.
The fictionalized version of the Strip was made possible by American International Pictures, a film studio that wore its "B movie" reputation proudly on its corporate chest. Whether it was a gothic Edgar Allan Poe interpretation (usually starring Vincent Price), a beach party romp, an LSD embryonic journey, or the revving of a Hell's Angel's Harley "hog," AIP films gave the impression to the movie goer that once the director, crew, and cast let go of the illusion of being the consortium that would one day surpass Citizen Kane, they could at least enjoy themselves on the shooting days and end up taking in a decent box office receipt. Such was the case with Riot on Sunset Strip, a cult movie classic that featured the Standells singing the title track and a rare movie appearance by arguably the greatest rock group to come out of San Jose, the Chocolate Watchband. AIP, once again, was quick to spot a trend, jumping on the media reports of Sunset Strip curfew riots (a battle that inspired Stephen Stills to write "For What It's Worth") in order to crank out a movie with a $250,000 budget just six weeks after the actual youth-police confrontations.
The real Sunset Strip world for the Standells was quite different from a movie set. They embraced more of a "garage" sound than many of their LA contemporaries, and classic singles like " Dirty Water," "Sometimes Good Guys Don't Wear White," "Why Pick on Me," "Try It," and, of course, "Riot on Sunset Strip" demonstrated that their first allegiance was not to the Beatles but to the Rolling Stones. The Standells were raw and snarly and considered punks — and this was long before the "punk rock" terminology associated with the Ramones and the Sex Pistols was hurled into youth consciousness.
Fast forward to 2013: the Standells are back on an ambitious live schedule to promote an album, Bump, their first new disc in over four decades. After a riveting CD release party in LA's Silver Lake district last month, the band will headline the upcoming Adams Avenue Street Fair on the weekend of September 28-29 with a lineup that features group leader Larry Tamblyn (keyboards), John Fleckenstein (bass), Mark Adrian (guitar) and Greg Burnham (drums). It has also been confirmed that Johnny Echols of the band Love ("My Little Red Book," "7 and 7 Is," "Alone Again Or") will also be appearing on the Adams Stage with the Standells.
Tamblyn bears a resemblance to his brother, actor-dancer Russ Tamblyn. The latter himself starred in the rock and roll cult favorite, High School Confidential alongside Jerry Lee Lewis and Mamie Van Doren and major big studio triumphs West Side Story (Best Picture winner, 1961) and Seven Brides for Seven Brothers. In his cover notes for the new album, Larry explained the reasons for the group reunion and the album's title.
"In recent years, the Standells had been doing numerous concerts throughout the world. But for us, it just didn't seem to be enough. We had a choice; we would continue working in safe familiar territory, or move forward. We were literally at a 'bump' in the road. If we crossed over it, we would be rolling the dice and entering into the unknown. I knew that the only way we could move forward would be to take a giant leap over that bump and record a new album. It had been over 45 years since the Standells had been in a recording studio. It would be a risky time-consuming proposition but it was something we had to do."
Coinciding with the recording process was an unexpected personal odyssey for Larry, which he was adamant on sharing with the San Diego Troubadour. "We had a lot of roadblocks along the way, like an expensive lawsuit last year (we prevailed), and that I was diagnosed with prostate cancer in its advanced stages. I had to undergo a radical prostatectomy, which is nothing short of life altering. Today, I am cancer free and am in terrific shape. You are welcome to print this, because I am an advocate for men over 50 to get yearly PSA tests — I don't care what the medical community is now saying. It saved my life! Throughout all this, with a few delays, we continued to work on the album. Bump is significant and symbolic to us in many ways!"
As identifiable as the Standells were with the Sunset Strip, the Boston imagery described in their best-known record, "Dirty Water," has allowed the band to connect with citizens of the New England metropolis. "Although we are all from Southern California, the Standells have very strong ties to Boston," said Tamblyn. "The Red Sox use "Dirty Water" as their official victory anthem. We've performed there many times. "Boston's Badass" was a last minute addition to the new album. All of the Standells wrote it! The song was written specifically for the Boston bombing victims. However, we didn't want it to be some flowery ode to the city of Boston, which we do adore; we wanted [it] to be a testament to the toughness and resiliency of those wonderful people who live there."
Today, the Standells perform before multi-generational audiences with the improved, up-graded technology Tamblyn couldn't visualize back in the day.
"For one thing, the sound and lighting technology has gone bananas. Back in the '60s we never had a sound check; now it's expected. Our sets today seem to be much longer than back then. We would normally play a 30-45 minute set; now it's more like 60-120 minutes [including encores]. Back then, the sound systems were minute compared to today's systems. We never had mics on anything but the vocals; now EVERYTHING is mic'd. The crowds today are every bit as enthusiastic as they were, but we don't have screaming teenagers trying to rip of our clothes off anymore — although it would sure boost our egos."
The addition of Echols to the Adams Avenue Street Fair came through the efforts of producer/promoter Gary RÃ chac.
"Both John Fleckenstein and Johnny Echols were co-founders of Love, along with Arthur Lee," said Tamblyn. "In 2006, the two appeared in Love Story, a documentary on the famous Arthur Lee. http://www.imdb.com/title/tt0814199/. During the '60s the Standells performed songs also done by Love, such as "Hey Joe" and "Little Red Book," so there was a musical connection. And, as I mentioned, John Fleckenstein was in Love before joining the Standells in 1967. A mutual friend, Gary RÃ chac, happened to be good friends with Johnny and suggested we re-connect. Johnny was the special guest at our CD release party and concert at the Satellite Club [last month], and we all could tell the energy was perfect. Not only is he performing with us at the Adams Avenue Street Fair, but he has also been added to our concert at the [New Orleans] Ponderosa Stomp on October 5th. Oh, and did I say he's a really great guy and still the incredible guitarist he was in the '60s?"
For Echols, the feeling is mutual. "I have always admired and respected the Standells as musicians and as people, so when Gary Rà chac approached me with the opportunity to play with them, I was more than happy to come on board," Echols explained. "Our musical roots are so indelible, entwined, [that] reëstablishing our relationship proved to be seamless…. Come on down and enjoy some good music!"
Johnny's invitation is valid — there will be great music all weekend. Joining the Standells over the course of the two days will be the rockabilly sounds of the Dave and Deke Combo, Big Black Delta (Jonathan Bates), the punk bluegrass of Old Man Markley, blues by Zac Harmon and his Band, the indie rock of Wild Belle, New Jersey band Saint Rich, Boston singer-songwriter Chris Trapper, the "raw soul" of San Diego's Styletones, Afro-Latin funk by Jungle Fire, and singer-songwriter Paul Freeman. If that doesn't constitute a full musical plate, there are dozens of other acts waiting to be heard.
The Adams Avenue Street Fair takes place Saturday and Sunday, September 28-29 in Normal Heights. A complete schedule is available at www.adamsavenuebusiness.com/ Adams-Avenue-Street-Fair.html