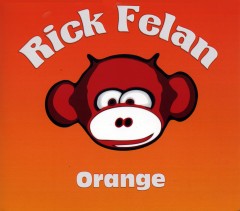 Debut CDs by singer/songwriters are often tentative efforts with a few strong tracks surrounded by some weaker, similarly flavored songs with much the same sonic formula. San Diegan Rick Felan's new CD, Orange, isn't one of these; he assembles an 11-song batch of original pop tunes that are engaging, well-arranged, and often arrestingly catchy. Producer Jerry Steelfox plays most of the instruments besides acoustic guitar, and to his and Felan's credit, this is music that is very well recorded, though apparently in a home studio. The songs often include complicated instrumentation and effects but do not sound unfinished or thin: some, with two credited musicians, sound like an orchestra plays on them.
Felan's songs show some influences that include the Beatles, Matthew Sweet, Elvis Costello, and numerous classic rock sources, but the music is not derivative and cover a broad style pallet. He opens with a pleasant if somewhat innocuous rocker, "Everybody Knows," a simple tune that uses a structure similar to "Sweet Jane," then comes "All That I've Been Waiting For." This one has haunting reverb, echo, and unexpected textures over the top of some nice percussion touches, and it is clear that Felan's range is heading in some unexpected directions.
One of those directions is heard on "Love Boutique," which could easily pass for a quirky Tom Petty shuffle about girlfriend problems. Then "Baby You Were Wrong" takes the musical potpourri to the next level, as this highlight slows things down with a lush arrangement that recalls the Zep's "Rain Song," but gives Felan a chance for an emotional delivery as he sings, "You took your love, walked out my heart/Left me here all broken down and crazy." The level stays high for "Mist," as he sings to a brisk beat about crying after a breakup in the rain, and again the catchy melody is anchored by keyboard strings that give the tune a cello riff as well as added depth that makes it click.
Another good track is "My Blue Girlfriend," rocking hard with a killer guitar lick and a strong Costello vibe, about a lover that is love with James Dean and wants to watch him bleed. On the fun rocker "DMV," Felan sings the woes of being tailed and harassed by cops: "Go after somebody that's got a gun/'Cause I've killed no one/I don't even own one." It's a clever tune that explodes with rock energy. Felan's comfort with power pop is again evident on "Sitting in My Car (Watching the Rain)," which cranks up the amps for some chunky chords and a stinging Steelfox guitar solo, a good song that like many others here is made better by Felan's ability to write a bridge that improves it: "It's just a matter of time 'til the weather is fine and I'm ready to drive/It's just a matter of time 'til the sun's gonna shine and I'm makin' you mine."
Orange is a great listen, and represents a fine introduction to Rick Felan's many-faceted pop talent.