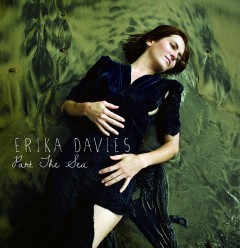 Perhaps it's no coincidence that the title of Erika Davies' album, Part the Sea, was chosen as the one to grace this latest, musical endeavor of hers. Given its name, seven songs (a significant number found in the Book of Revelations) and the location used to record the title track, "Part the Sea," (The Lost Ark Studio) one may assume the Bible played a pivotal role in all of this. Despite this theory, Davies had "been unaware of their obvious correlations." Whatever one wishes to presume about such divine connections is a personal matter. Part the Sea offers its listeners access through the labyrinth of Davies' soul, while unveiling the outline of her own heart drawn in the sand.
Davies has established herself as one of San Diego's finest performers, whose torch songs evoke memories of a certain yesteryear. She is a modern-day version of Billie Holiday, whose unmistakable voice harkens back to a time in American history that celebrated James Cagney and the end of Prohibition. In Part the Sea, she explores diverse vocal styles, without ever compromising the sound for which she is recognized. It is here that Davies' ethereal beauty shimmers just beneath the water's surface while rising through the mist.
A true romantic, who finds that love doesn't always settle the first time around, Davies looks longingly into the eyes of her present-day and former lovers on "You and Me," while exchanging glances with the moment to reminisce about the past. The 1940's romp-and-sass of "Workin'" has this gal sounding off about the misfortunes life has thrown her way; however, it's having a loyal companion by her side to help ease the pains.
No man can resist the temptation of desire, especially if the seductress is as beautiful as Miss Davies. In "Stay Away," the beguiling one gives fair warning to her potential suitor, who belongs to another woman, to do just as the song title suggests. The cool stirrings of jazz never sounded so inviting as it does on composer Aaron Mahn's "Part the Sea." This particular number grooves in all the right places as Davies imparts, "Well, you were just a color that I wear." The lament of a relationship lost but fondly remembered washes over the senses in "Lovely Ways," as Davies waxes nostalgic about the one who is no longer in her life but has somehow managed to find a special place in her heart.
In the closing chapter of Part the Sea, on the deeply moving "Fragile Voices," Davies pays homage to Amanda Knox, the American who served time in an Italian prison for the 2007 murder of her roommate. This is where the artist truly shines as a songwriter and defender of the human condition, reminding us all that where there is hope, redemption will surely follow…