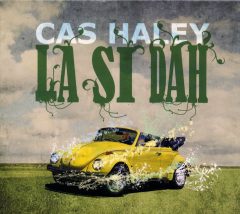 Though he has released two genuine hit reggae CDs, Cas Haley doesn't sing about the Rastafarian legends, smoking ganja, or the hard realities of island life. The pale, portly Texan's buzz-cut hair may be devoid of dreadlocks, but he has some clear advantages: he has a set of pipes that are a superb upper-register instrument for light reggae, R&B, funk, and pop tunes. He has a tight band, and on his latest disc, La Si Dah, a knack for catchy material. The generous 13-track, nearly 50-minute disc could drag if it colored inside the lines of just one style; but rather the slickly recorded document mixes instrumentals, originals (most by Haley), and covers. A song with ska rhythm might be followed by a soul ballad, or maybe a funky guitar/organ exercise. Throughout, the music is raised a notch by some great rhythm guitar (Haley and Eric Neal), keys (Ryan Eldridge), and, especially, Jacob Benenate's drums and percussion.
The CD starts with a nice touch, an instrumental, "Jackson," that is a pleasing slice of funk guitar. "La Dah" is a sing-along that Haley's voice just nails; he is right at home on the lurching beat of music like this and he seems to be celebrating, with a certain joy in his tone. A cover of fellow Texan David Willingham's "Mama" is a highlight, with a taste of traditional reggae: "You are the flower that brings the harvest/ Fruit of the nation being born." After a slow R&B-fueled ballad, "Wait For Me," well sung by Haley, comes another sharp reggae number, "Crazy Good Woman." This is a made-for-radio, beautifully recorded tune with a memorable hook, a demonstration of Haley's ability to write and record chart climbers.
Haley can get down with the blues-rock when the chance arises, and he takes on "I've Got My Mojo Working" with an earnest blues wail, scat singing a bridge while the band cranks up some keyboard fury. There are also some sharp instrumentals on the disc, with some superb ska guitar on "Capricorn"; "Trash Day" features Steve Cropper/Booker T-style guitar and organ dueling.
Fans of the reggae songs about lost tribes, social upheaval, and such aren't going to find their music on La Si Da, but the music here nonetheless has an island feel on "Slow Down," as Haley follows the walking bass and crisp ska guitar line with his vocal: "We got to slow down/ Get in tune with that island time… Staying thankful every single day." It has the mellowed-out vibe that good reggae is known for. A similar feel is heard on "Tally Tally," and this one manages to pull in West African hand drumming and percussion in an extended coda. Things wrap with "Start This Over," a pop anthem with reggae bloodlines (and great drums), which finds Haley singing about a social awakening.
Cas Haley's La Si Da is good-time music, an album without dud tracks or filler, and one that clearly shows his talents for a base of fans that is sure to grow.