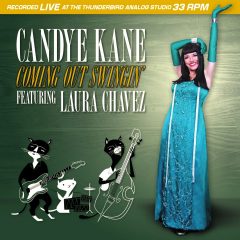 From the opening four measures of Fred Rautmann's persuasive drum intro on the title track, to Laura Chavez's burning guitar riffs on the closing tune, "Marijuana Boogie," vocalist Candye Kane's new offering is a rollicking 13-track cornucopia of hot buttered soul and rhythm & blues. Kane holds nothing back as she belts out tune after tune with raw emotion and vocal soul styling right up there with the best of them. Along with Rautmann on drums and Chavez on guitar, veteran bass man Kennan Shaw completes the quartet, anchoring the band with solid, unobtrusive bass lines, right in the pocket all the way through. Adding to the party, Kane recruited many of San Diego's finest musos to complement the overall sound, starting with a dynamite horn section, including Jonny Viau on sax, April West on trombone and Bill Caballero on trumpet, along with Sue Palmer on piano, Billy Watson on harmonica, and Leo Dombecki on organ.
Nine of the tunes were penned by Kane and Chavez, with four rhythm & blues standards consummating the mix. Thomas Yearsley engineered the project at his Thunderbird studio, producing a top-quality sound and mix for the recording, and even playing string bass on a few selections as well.
The title track opens the disc with a full on big band sound, aptly backing Kane's powerful vocal gymnastics, complemented with round robin solos from Chavez, Caballero, and Palmer. The groove remains crisp and upbeat through the next four tracks, with high energy solos from Chavez and Palmer on Benny Carter's "Rock Me to Sleep," followed by three straight Kane/Chavez rhythm & blues cookers, "I'm The Reason Why You Drink," "When Tomorrow Comes," and "Rise Up," the latter being a great candidate for a hit single. The horn section arrangements swing beautifully with an overall sound reminiscent of Muscle Shoals and Motown.
Kane sports her versatility on two ballads, Rick Estrin's gospel blues flavored, "What Love Can Do," and on the obligatory minor blues cut, "Invisible Woman," a Kane original that speaks to the heart. To add to the overall musical variety, Kane and Chavez penned two good-time rockabilly ditties, "I Wanted You to Walk" and "Barbed Wire Mouth," in addition to an authentic doo wop cover of "Darling Baby."
Chavez, whose star is rising as a dynamic all around guitar stylist, shines throughout the disc with an eclectic array of solos, winding through traditional B.B. King licks, west-side soul phrases reminiscent of Buddy Guy and Magic Sam, Texas blues riffs à la Stevie Ray and Jimmie Vaughan, classic Carl Perkins flavored double stops, and jump blues patterns that would make Gatemouth Brown smile from above.
Coming Out Swingin' has something for everyone: a well rounded variety of musical grooves with lyrics we can all relate to, which keeps you entertained from start to finish with well thought-out and concise arrangements, superb musicianship, melded with Kane's prominent vocal diversity leading the way.