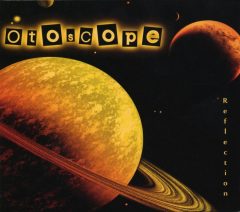 Otoscope fits into the "adult alternative" category, a local quartet founded by Tom Teubl, who is originally from Cleveland. After a 2004 disc that featured local guitarist Steve Langdon, the current band includes Teubl on rhythm guitar and vocals, Langdon on guitars and keys, Doug Purvis on bass, and Benjamin Franklin Day II on drums. Langdon produced their new CD, Reflection, with 12 Teubl originals.
This is layered, over-driven guitar rock, laid on thick. Not heavy metal, not as complex as progressive, nor does it have much of a rock beat, as the emphasis seems to be to make melodic anthems. Many are lumbering, power-chord frameworks for Teubl to hang his interesting lyrics (easily accessible online), effectively using slide and drone guitar effects. Teubl's vocal is fine, while a bit smallish within the overall sound. Though Langdon is clearly one of those axe men who can burn holes in space with blazing licks, these are largely kept in the holster.
The opener is a good example of the sound and a highlight. "Ganapati" has a very good hook built on a simple, lurching drone that sounds like 50 guitars, while Teubl sings mystical-sounding lyrics about a Hindu god; it all works. Pink Floyd sounds like the inspiration for "Please Be Good to Each Other," which has the same drum riff as "Ganapati," but big slide guitar lines over the top as guest Allegra Barley adds the vocal, repeating the title while otherwise sounding vaguely like "The Great Gig in the Sky."
"Dire Situation" is quieter, with harmonies, a story about Teubl's days being raised by wolves, as a metaphor for the greed of modern society. Langdon gets to shred a bit on "Three Fourths of a Fifth," about getting trashed on that much whiskey and its repercussions; he flies, especially on the outro. "Record Player" is a pretty good song that brings a smile as a drone beat and three-part harmonies combine: "Seems like a hundred million years years ago/ You brought joy in the past/ You're the record player." Hey, man, I still collect vinyl and have a Yamaha direct drive three feet from this keyboard.
Teubl wrote "Sea of Souls" about those who perished on 9/11, and the tune has somber breaks with acoustic lines by Langdon. Okay, but next up is a very similar sounding song, "Numbered," all about how we're all dying, but no worries as reincarnation waits, invoking another Hindu deity. Maybe sequence these two further apart? The closer, "Sea Change," has the first organ heard on the disc and a soaring solo by Langdon, his best, pulls it out of the filler thicket.
Reflection is a mixed bag; it isn't mellow acoustic stuff and it's different from a lot of the music out there. Folks who like rock that isn't intrusive or aggressive will find that Otoscope has made some interesting music that is definitely worth a listen.