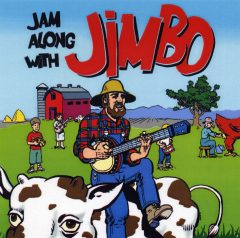 It is not often that a performer introduces his new album by saying, "It was made for the pleasure of children, cats, and dogs, but I think you will like it too." But not every performer is JimBo Trout, long-time front man for the Fishpeople, a self-described "high energy, good-time band from San Francisco that has been together since 1992. They perform a musical gumbo made up of bluegrass, ragtime, blues, western-swing, Appalachian, rock 'n' roll, New Orleans, honky-tonk, and more."
Trout and his band (consisting of Steve Neil on bass, David Phillips on guitar, and Kevin Gerzevitz on accordion, accompanying Trout on guitar and banjo), perform about 90 shows a year at all sorts of venues, ranging from children's parties, street fairs, weddings, and retirement homes to prestigious festivals such as Hardly Strictly Bluegrass (in 2005). Although Trout and the Fishpeople have opened for mainstream Americana acts such as Dale Watson, the Gourds, and Southern Culture on the Skids, Jam Along with JimBo is a children's album. On it, Trout collects 13 traditional melodies with fun lyrics, amusing rhymes, and lively rhythms that will appeal to young listeners. The solo tracks (featuring Trout on guitar, banjo, kazoo, harmonica, and vocals) include "Ain't No Bugs on Me," "Rocky Top," "Tennessee Stud," "Ol' Dan Tucker," "Old Blue," "Freight Train Boogie," "Sourwood Mountain," "Animal Fair," and "The Crawdad Song." The tracks featuring the Fishpeople include the excellent "The Green Grass Grows All Around," and a catchy version of "Cotton-Eyed Joe." The tracks featuring another old-time Bay Area ensemble, the Squirrelly String Band (featuring Dave Murray on fiddle, Debbie Berne on banjo, Allegra Yellin on guitar, and Rachel Kraai on washtub bass) include "Cluck Ol' Hen" and "Alabamy Girls."
Jam Along with JimBo is a good introduction to folk songs performed acoustically, featuring instruments that many children may never have heard before, such as a banjo (played claw hammer style), kazoo, and washtub bass. The only thing that is missing is a washboard player and spoons as percussion. Trout's enthusiasm for the tunes is infectious and is evident from his spirited picking, saucy harmonica licks, and quirky vocals. The sound is unapologetically (and authentically) retro, just off-beat enough to be appealing to children unaccustomed to bluegrass or traditional string music.
Trout is obviously used to performing before young people, and his song selection is drawn from his 300-plus songbook to include his perennial crowd-pleasers. Teachers and parents wishing to expose kids to a wholesome sampler of old-timey songs will find much to enjoy in Jam Along with JimBo.
Trout will be performing (for grown-ups) in San Diego at the Riviera Supper Club on July 18. Jam Along with JimBo is available by mail order through CD Baby and Aquarius Records.