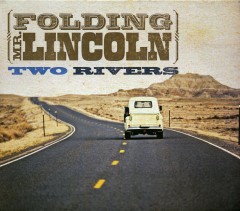 Two Rivers, the new album by Folding Mr Lincoln, is one of those rare musical statements where the whole is greater than the sum of the parts. The songs tell individual tales, but also combine for a chronological storybook, best heard from start to finish; it requires an emotional investment from the listener, but one that is paid off handsomely.
Vocalist and guitarist Harry Mestyanek wrote all but one of the 12 originals and co-wrote the other with wife and singer Nancy. Also on board are regular members Charlie Loach (guitars), Alicia Previn (violin, backing vocals), and Jeff Stasny (drums and percussion). The pristine sound was recorded and mixed by Jeff Berkley, and ace local musicians Greg Gohde and Dennis Caplinger help out on bass and stringed instruments.
The new disc tells the life story, much like the screenplay of a movie, about a couple, Lynne and Eugene. "Under Western Skies" introduces Nancy singing as Lynne about meeting a new boy, "kind and roudy rolled into one" in her Central Valley life, as harmonies and slide guitar licks convey a wide open landscape. Harry becomes Eugene for "Chances Are," with a foreboding vibe from Previn's violin bow: the two have decided to take that next step in their journey, from which there is no turning back. It works out, as the title tune (and disc highlight) reaffirms their joining as two rivers to become one. This song is a catchy, radio-ready triumph.
Things get plugged in for "I Wish I Was," as Harry sings about self-doubt; the choruses hit with real impact as Loach's fuzzed guitar lines push the envelope on another standout track. Nancy expresses Lynne's moments of frustration in "Not Clear to Me Now." Then – no surprise – in "Lynne and Eugene," the two talk things out and "share a few secrets they have now and then," then embrace and "they're going to try this again." The next chapter, "Forgive for Love," is also sung by Harry and is musically similar to "Lynne and Eugene." The result is that the story moves forward, but the music stalls as the two straighten out their relationship in their middle years.
By "Sunday Morning," all is well, and they are falling in love again and being old friends; the up-tempo song seems to break the musical slow streak as well. After a spoken interlude about Lynne's illness ending their time together, "Every Step of the Way" is an upbeat look back by Harry at their time together, the pleasant memories, how she was always there; it is a catchy tune with a poignant and touching message. Finally, the sun is setting on Harry/Eugene for "Angels and Cowboys," another disc highlight. He's at the "end of this lonesome highway," recalling the good times and bad, and ready to sing with the angels and cowboys. This song is memorable, with stand-alone power and dignity.
Listening to Two Rivers is more than listening to music. It is experiencing a lifelong relationship. Kudos to Folding Mr Lincoln for the artistic courage to create it.