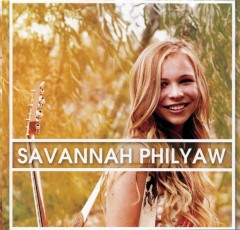 Savannah Philyaw's self-titled debut isn't a tentative effort; the local teenage songstress has recorded five tunes that hold back nothing – as if each was a clear effort at radio single or magnum opus of sorts. The country-pop songs are played by a cadre of top San Diego session players (Dennis Caplinger, Sharon Whyte, "Nucci" Cantrell, Duncan Moore, and John Foltz among them, as well as producer/board man Jeff Berkley). The seventeen-year-old Philyaw's voice hasn't fully filled out yet, but she gives a solid effort to match the intensity of her stellar backing, and her songwriting is good enough to keep the listener engaged throughout.
"Uh Uh" opens, which is about her giving an eager suitor the brush-off, having been burned before – but then, maybe not. The tune recalls Taylor Swift and has a hook, but "Take Me Home" is better. On this one, Philyaw tells of her insecurities and needs in metaphors matching the characters of Wizard of Oz. Instead of being corny or overly cute, the song is catchy, dynamic, and imaginative. Foltz's keys and nifty pedal steel by Kevin Ryan help lift the ballad highlight "Family." Philyaw is in best voice with a message about a homeless child, "Does anybody see what is happening to me?/ I'm just a baby, can't you see?"
"U & I" is a tune with the musical bombast of a Springsteen epic, but nothing real to say. Philyaw does better on "Anonymous Ode," the painful play-by-play of a breakup. An ace arrangement makes this song a haunting powerhouse.
Savannah Philyah's debut is a strong first step, with some surprising songs belying an artist of her experience.