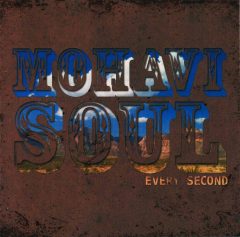 It's always refreshing to hear a new take on a traditional form (especially when its done with such aplomb) and if you're a fan of the down home Appalachian vibe then I say that you're in for a face full of good eatin' with the debut recording of San Diego's own MohaviSoul.
MohaviSoul are a quintet with the songwriting and lead vocal duties split 50/50 between guitarist Mark Miller and mandolinist Randy Hanson, and together they make a righteous sound. The group is rounded out with bassist Orion Boucher, Warren O on fiddle, and Jason Weiss on banjo. They all harmonize and all that's missing is a little pedal steel and they could be a ringer for Hank Williams' Drifting Cowboys at times. There's no percussionist in the group (save for the rhythmic plunk of Boucher's upright), which makes it sound all the more appropriate on Every Second's lone cover tune, a jaunty interpretation of the French café jazz of Django Reinhardt and Stephane Grappelli's "Minor Swing."
Inevitable comparisons to Mumford & Sons (by those whose sense of history does not extend beyond the past five years) ought to be squelched forthwith because these guys are really drawing water from the same well that Bill Monroe dug for future generations back in the 1940s, with subsequent thirsts quenched by the later-day efforts of the Byrds (particularly, Chris Hillman), the Eagles, and Poco (to name but three practitioners of the mutating form). There is a seventies sensitivity to both Miller's and Hanson's songwriting and this is exactly the type of music that marketers created the demographic umbrella of "Americana" for in the first place.
Whilst by no means reinventing the wheel these songs feel as comfortable as your favorite pair of slippers – they're soothing, warm, and reassuring. Jake Skolnick's production sounds like a snapshot of a live band working it out in the studio in one pass rather than using the studio as a canvas to create a sonic painting. But these are fully functional photographs and evidence that these guys know how to be sensitive, listen to one another, and create a pleasant blend of vocals, wire, and wood in the manner that we used to hear before the advent of drum machines, digital compression, and multi-track recording.
If there's one thing to complain about on Every Second it's that this disc is too darn short. After hearing all five songs I want to hear at least five more. Okay, so it's an EP but it sounds more like a traditional vinyl LP that's missing its second side. On the other hand it's always good to leave them wanting and I hope that by the time MohaviSoul gets around to a second musical offering that they're more generous with the portions. Bon appétit.