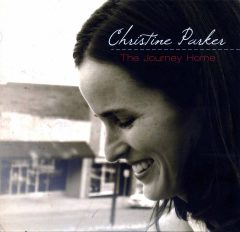 Christine Parker's new EP, The Journey Home, gives the singer/songwriter a good opportunity to put her chops on display in six of her pop tunes. Parker's vocals have a nice, understated confidence, no "big voice," but a good fit for the light piano/acoustic guitar instrumental structure and lyrical storyboards of her songs.
At first, her laid-back style is so innocuous that it takes few listens for some of the tunes to sink in, but it is worth the effort. Things open with "Goodbye," a breakup ballad with plodding verses about the misery of loss, only to be redeemed by a catchy harmony chorus, with Parker going up and sweetly nailing the high notes. "California" is the centerpiece of the album, a personal testimony to her love of the Golden State, again with winning harmonies weaving in and out. A SoCal artist with roots in the Midwest, Parker sings "Oh, how warm she welcomes me/ The summer breeze, the lemon trees." Another strong cut follows, as "Say So" is a relationship song with the best hook and best vocal on the disc; one quibble is that its percussion (largely absent elsewhere) sounds like a tick-tick scratch on a vinyl record.
The songs on the disc are similar in tone, key, and pace, and "Winter Solstice" sticks to the same formula. This disc closer stands out, though, because it is about the melting snows and short days of winter: Parker isn't in California on this one. Overall, her Journey Home is a mellow trip with some enjoyments on the way.