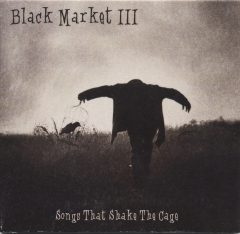 It should be no surprise that the Black Market III has exploded onto the local blues scene. "Mad Dog" Scottie Blinn has fronted the Mississippi Mudsharks, Tiki Torchers, and other blues bands for over 20 years. With the kind of blues and vocal edge that earned plenty of local and international fans (several blues chart-topping European discs), he's gigged with a who's who of San Diego blues stars and most of the top touring blues acts to hit town since the '90s. Founded a year ago, the Market is his new band, a power trio with drummer Haley Allen, and bassist Roxy Coverdale (Blinn's wife). They don't have the reputation he does, but on the band's debut CD, Songs That Shake the Cage, they lay down a ferocious groove like seasoned pros on every track, and give "Mad Dog" a chance to shine on a 13-track mix of covers and originals. Add his gravelly, soulful vocals and gut-level guitar licks and it's great roots music fueled with power and emotion.
It is impossible to do anything but sing the praises of a disc that starts off with a bruising cover of Link Wray's "Rumble" with all the knobs turned up, then moves straight into a fiery boogie cover of former San Diegans the Farage brothers' (DFX2) "If I Can Hold"; this one was one of Country Dick Montana's best Beat Farmer covers, and Blinn's vocal and guitar assault gives it a Billy Gibbons twist. As if it can't get better, there are two Tom Waits covers: "Hoist That Rag" has a pounding riff and careening lead solos wrapped around Blinn's throttled-back, Waits sound-alike vocal. "Lucinda/ Ain't Goin' to the Well" is the other Waits song here, and it is a dark voodoo trip back and forth about being dragged to hell by Lucinda, with a power blues groove driving the proceedings slower or faster, as Blinn talks of temptation and perhaps redemption — but it's blues so the listener isn't quite convinced of the latter. It's the best slow track on the disc.
Blinn's originals stand up well with these and other standards. "Hard Times" slows things down as Blinn solos with a Leslie speaker effect. On the red-hot instrumental "Psych Ward," "Mad Dog" tears into a surf/punk/blues scorcher like Dick Dale dueling with Stevie Ray and it is a finger-blistering standout. "All of Your Love" is a straight-ahead blues shuffle with trade-off vocals between Blinn and Coverdale and it features the best blues guitar solo on the disc — lean, mean, and clean. More of the same on the full-bore "Shake."
Blinn isn't just a top-notch blues rocker. He has been involved in programs teaching grade school kids music in summer camps and through his Rock Academy program. And, he has his own studio, record label (Double Barrel), and did a masterful job of producing, mixing, and mastering this pristinely recorded disc.
Songs That Shake the Cage is a show of force: uncompromising, grind-it-out blues rock done as good as it can be. Plus, it shakes the cage.