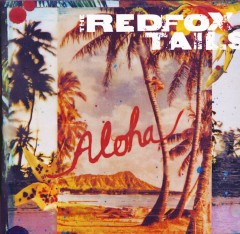 Can an instrumental recording tell a story? Redfox Tails' mostly instrumental new release, Aloha, certainly boasts an inherent narrative quality. When I tweet about this album I'll liken its sound to "surfing spacemen in sombreros." But, free as I am here from the 140-character restraints of twitter, my goal is to be as expansive as possible about the sound of this record because it is a brilliant piece of work and most worthy of long-winded praise.
The opening credits to this sonic movie roll-out with the Tex-Mex fever dream of "Yuca Frita," giving immediate and irrefutable testimony to the guitar prowess of Felipe Benavides. A tonemeister extraordinaire, Benavides chooses his notes carefully, calmly manipulating the smooth grooves by wisely placing mellow phrases over the rhythmic framework provided by bassist Jay Reilly and drummer Ron Bocian. Reilly's upright bass lends the album a thick, wooden resonance, while Bocian's sticks roll, rumble and clatter across the cymbals, rims, and tom toms with a casual confidence that can't be faked.
The Redfox Tails have cleverly carved out a unique niche of instrumental music that blends the Catalan rumba of the Gipsy Kings with the supercharged surf music of the Ventures. But even that comparison doesn't quite do the band justice, as their new record displays a command of multiple genres and a wide palette of moods that seems to be constantly evolving throughout the album. We're just three tracks into the record when the plot thickens with the addition of David Burnett on saxophone for "Para Todos." Burnett's contribution adds another layer of sound that lifts the band to greater heights while simultaneously pulling the band deeper into the pocket. The gently insistent acid jazz pulse of "Our Little Secret" is the sound of four musicians acutely dialed in, listening intently to one another, collectively unfurling a dark, sizzling groove.
Midway through the proceedings the band hits their stride with the gypsy surf jazz groove "Fiddle Leaf Landers," the penultimate statement of Redfox Tails' singular sound. The album is rife with chill funk, and "Fiddle Leaf Landers" is a stellar showcase of everything this band is doing right: Reilly's rumbling upright bass propels the tune while Bocian's clever stickwork lays down an irresistible groove. Woven throughout is Benavides' sly warbling guitar swells, dripping with reverb and restraint, swaying like the wavy lines of refracted light over hot sand.
The Redfox Tails' towering instrumental chops and innate knowledge of how subtleties and understatement best serve the groove form the kind of strong musical foundation that most bands only dream of. And though the inclusion of one song on the CD that features rap-style vocals was possibly intended to increase the album's accessibility, it feels unnecessary and out of place here on a record that is otherwise sublime.