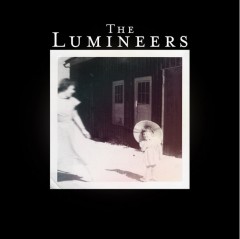 About a year ago, I found myself shaking hands with and serving garlic bread to a few new strangers in my kitchen. My partner Veronica's friend and über-talented musician Maxwell Hughes was passing through San Diego, on tour with the Colorado-based band the Lumineers. I liked Maxwell and our three new friends (Wesley Schultz, Jeremiah Fraites, and Neyla Pakarek) right away. They looked tired but were all equally friendly, kind, and gracious. They even provided their own box of spaghetti and jar of pasta sauce – a brilliant meal plan for broke-ass musicians with no refrigeration and hosts that can barely boil water. Later that night, Veronica and I enjoyed the band's sparsely-attended show at Lestat's. They clapped, stomped, shouted, and sang, and they encouraged the crowd to do the same. On stage, they no longer looked tired. They looked luminous.
Fast forward to 2012. The Lumineers (now sans Maxwell) have arrived. With their newly released self-titled album, they are selling out venues, performing on Conan, opening for the Civil Wars, featured in a Microsoft Bing Commercial, available at Best Buy, receiving national radio play, and now they're the latest selection for our Album of the Month club. (AotM 11 is my musical version of a book club. My friends and I take turns choosing albums to review, then we all get together monthly for food, drink, and discussion.)
In the short time since I met them, the Lumineers found exactly the kind of success that I, along with so many of my peers, work toward. I was happy for them, but I couldn't help but selfishly wonder what they had that I didn't. I'll admit it took one whole spin of their self-titled album to erase the little green monster inside of me. On the first go-round, I actively looked for flaws to make myself feel better. And I found… one. Due to a nearly identical melody line, I thought "Slow it Down" was a poor choice to follow the album's single "Ho Hey."
I tried to scoff at Wesley's simple lyrics, but I was quickly taken aback by how much he could say without saying much. "Stubborn Love" demonstrates this approach. Against a beautiful violin-laced, bass-thumping backdrop, he asserts:
It's better to feel pain than nothing at all
The opposite of love's indifference
So pay attention now
I'm standing on your porch screamin out
And I won't leave until you come downstairs
Subtle substance is again demonstrated in "Big Parade," the album's most well-written track. Like much of Dylan's early catalogue, the tune stands alone as a gorgeous piece of poetry.
Catholic priest, catholic priest in a crisis
He's torn between romance and Jesus
Who will win the civil war?
And he says I'm in love, I'm in love with a woman
Yeah this is my confession
I'm leaving I can't be a priest anymore, anymore
Add to that a perfect musical structure, a chorus of shouting voices and clapping hands, and now you've got yourself a jamboree.
The Lumineers' roots revival style needs little in the form of production; in fact, too much production would crash the party. Thankfully, the band recognized this and let their trademark simplicity work wonders. This allows particularly special "manufactured" moments to shine (see "Classy Girls").
With over half the album's tracks offering a hootenanny hook or a boot-stomping beat, it's hard not to sing along. In fact, I coined the term "vowelbum" after chuckling at all the 'o', 'i', and 'a' sounds thrust toward me in the form of undeniably fun and catchy melodies ("Flowers in Your Hair," "Ho Hey," "Stubborn Love"). I can't wait until "Sesame Street" invites them to guest star.
Overall, The Lumineers have created a style that is amicably heartsick and hopeful, subtle and soulful. Although I doubt they'll ever need to couch-surf on tour again, they will always be welcome to stay at my house. As long as they bring their own spaghetti.