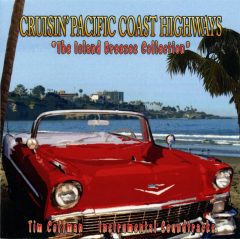 In the March issue of the Troubadour, Sarah Maisel's superb ukulele disc Have Uke Will Travel earned well-deserved praise. Tim Coffman played a big part in making that album happen – playing on it, helping with arrangements, and producing it at his Rolltop Music Studio. After extensive involvement in the contemporary Christian music scene in the late '80s and '90s, San Diegan Coffman has been releasing secular CDs of his own for a decade.
On eight discs since 2002, Coffman has specialized in original instrumentals. Other than one disc of smooth jazz with sax on board and a disc with vocal Hawai'ian tunes, these have been surf music mixed with laid-back island melodies. His new one, Cruisin' Pacific Coast Highways: The Island Breeze Collection, is the second of a two-part series, the first disc being The Longboard Collection. The titles say a lot; where the Longboard disc was mostly surf music, Island Breeze is mostly softer fare with an islands theme.
Coffman has done it all musically in his four-decade career, but this music shows that his strength is as a producer. His label's website says they specialize in instrumental soundtracks, and that is what Island Breezes basically is. Coffman plays guitar, bass, and keyboards on the tracks, and they are beautifully engineered, arranged, and mixed. The songs make good use of ukulele, Hawai'ian steel guitars (often more than one), and use top local talent as session players (Duncan Moore, Brian Cantrell, and Robin Henkel, among others).
"Big Island Rodeo" and "Kona Cowboys" open the 10-track album, and the similarly titled songs are two sides of the same coin. They are both mid-tempo shuffles, with steel guitars in the background and surf guitar front and center laying down very similar melodies; "Rodeo" has more ukulele in the mix and slightly faster, "Cowboys" has shimmering keyboards. Coffman stays in this mode with "Dance of the Palm Trees," while "Low Tide" has more of a slow surf riff, acoustic guitar, and dynamics missing in the earlier tracks.
"Waikiki Two Step" is the catchiest of the shuffles, as Coffman lays down a nice descending surf lick for the main melody and is joined by a superb steel guitar solo that lifts the tune. Elsewhere, the steel guitar is used mainly for background and atmosphere, and solos by Coffman or anyone else are rare. For "Sunset at Waikiki," the disc highlight, there is an almost orchestral depth to the slow surf anthem and real power behind the riffs. It has echoes of some long-ago slow surf classics like "The Lonely Surfer" and ends the disc on a high note.
There is a sameness to many of the tracks here, but that may be by design. There aren't any straight-ahead drum/ guitar surf rockers, and Coffman isn't trying to dazzle with instrumental prowess. The aim seems to be to create a mood and, on that basis, it succeeds completely. It is serene, and nonintrusive; the listener at times feels like there should be a surf or mellow travelogue film playing to accompany it. In a way, it's a lot like a breeze.