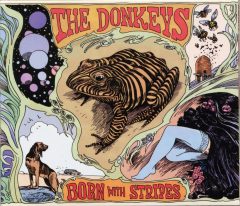 Whereas in past decades it was the norm for a band to wear its influences on its sleeve, being a hard rock band, a rockabilly band, a mod band and so on, many of today's musicians avoid this, mixing sounds and ideas to create their own template for music. To be sure, there are still genre-centric performers, but the most interesting music these days is indeed made by those whose aural activities come from a wider spectrum. As it is with San Diego-based quartet, the Donkeys.
Featuring Jessie Gulati (guitar), Anthony Lukens (keyboards), Sam Sprague (drums ,vocals), and Tim DeNardo (bass), the band's latest album, Born With Stripes, their third since 2006, is easily their best yet, and that's really saying something.
At once both modern and with retro flashes, Born with Stripes' dozen tracks cover a lot of ground. For reference, opener "Don't Know Who We Are" touches on indie rock along the lines of Pavement, while the title track would slot in well with any band that considers the Nuggets album series a prime influence. The latter is a sound they do particularly well. Indeed, a song from their 2008 album, Living on the Other Side, "Excelsior Lady" was included on ABC-TV's "Lost," as a song by an unknown sixties vintage garage band.
Meanwhile, back on Born with Stripes, "West Coast Raga" is a country-ish instrumental with sitar as its lead instrument and "Kaleidoscope" comes across like a Martin Denny South Pacific soundscape, mixed with a moody vocal.
Top track is "New Blue Stockings," which sounds like a great lost Doors song, "Riders on the Storm" era, complete with an excellent walking bass line that truly drives the song – but it's a hard call. This is an album that reveals more with each listen, each note clearly placed to add to the whole. That's part of the disc's charm, no excess. A few tracks time in at under two minutes, but some range past six. Either way there is no wasted space here, no padding.
Though Born with Stripes is an album filed under "indie rock," flying just under the mainstream radar, it's a disc that given the right push could, and in a perfect world, would crack the big time. All the ingredients are there; excellent musicianship and especially great songs that you'll want to hear again and again.