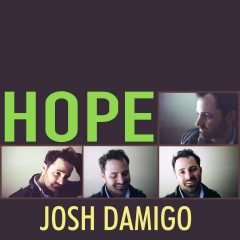 Roots rocker Josh Damigo doesn't have to worry about the sophomore slump. Damigo's second effort, Hope, is an hour-long outburst of unfettered human emotion, showcasing a heavy heart practically exploding with a wide spectrum of feelings, ranging from love, lust, confusion, resignation, pride, fear, and humor. Damigo's humble demeanor and youthful energy are infectious, easily cajoling the listener to come along for the ride. His no-frills fearlessness is admirable as he confidently conveys the inherent frailties of a man lost in the swirl of infatuation and vulnerability. Damigo's strong vocal skills are the perfect counterpart to his rough and ready backing band. This combination brings an ironic heft to his lyrical expression and the juxtaposition works like a charm. Spinning mystical observations about affairs of the heart in a tone wizened beyond his years, Damigo's rugged voice portrays an everyman persona akin to early Springsteen.
The lyrics to "Portland" white-knuckle the heartstrings from its opening strains, while the song's string arrangement lifts this beautiful ballad gently into the stratosphere. Its elements spare and subtle, the tune is a gem on every level from performance to production. The album also features the torchy, gospel-tinged "I Can't Be Your Man," an excellent duet with Nina Storey on "So Far So Good," and a cover of Jim Croce's "I'll Have to Say I Love You in a Song." Croce's son A.J. also appears on the record, contributing some tasteful bluesy piano work to "Slow Goin'." With the exception of one tune that delves into novelty song territory, this is pretty straightforward stuff. And, frankly, even that tune has a catchy chorus that got stuck in my head after one listen. Which means of course that regardless of my criticism, the songwriter has done his job.
While sometimes it seems like the marketing machinery of the music industry frantically slaps hyphenated genre labels on many new artists like a blind man playing Whack-a-Mole, it's guys like Josh Damigo that continue to prove that the best gimmick is no gimmick. Confidently shuffling between rock, pop, country, blues, and acoustic ballads without the slightest hint of stumbling, a young artist firing on all pistons like this quite simply is a rarity. Damigo's previous recordings have earned him numerous accolades from the local press and his profile continues to grow on a national level with a busy touring schedule that takes him all over the country. With the release of his nearly flawless Hope, the only sensible advice one might offer Damigo would be the suggestion that maybe it's time to clear a little more space on the mantle for the additional awards soon to come. There's no new ground broken on Hope, but Damigo has a strong gift for the songwriting craft. In a field where it's often said that three chords and the truth are the only tools you need, the youthful Damigo shows early signs of natural mastery.