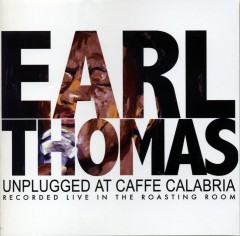 Earl Thomas relocated to Northern California some time ago, but he still has a huge local fan base, as well as one in the Bay Area, Europe, and just about anywhere that appreciates top-notch blues singing. Whether performing with his Blues Ambassadors, his European band, solo, or in other iterations, he continues to be that blues singer/writer who, throughout a career of over 20 years, has had superstar talent but no superstar breaks. Not to say he hasn't had success, with over a dozen albums and a reputation for blowing away festival crowds and walking off with awards.
Unplugged at Caffe Calabria offers listeners a chance to catch the sounds of a Thomas show in an intimate North Park club. His only accompanist is acoustic guitarist Heine Anderson (whose versatile playing is worth the price of the disc by itself). The music is a cross-section of old and new blues, funk, and soul, with Thomas' voice by turns commanding, playful, and powerfully raw. It's a mix of standards, originals, medleys, and stage banter (these – great idea – are collected as separate tracks at the beginning and end of the disc, where some bits by Thomas rate as pretty solid standup gags).
Thomas eases into things with a funky reworking of "Ode to Billy Joe," then ups the ante with "Give Me One More Reason," laying down the law to his woman, while Anderson shines, combining bass bump and rhythm chord chops on this funk shuffle to perfectly complement the vocal. On the Thomas favorite (and disc highlight) "Get Me Some," he isn't trying to finesse his woman, or care if she is two-timing him; he wants uncomplicated sex. The music is called "rock and roll" for a reason, and this salacious tune hasn't been covered by Tom Jones because it is a torch ballad.
By tradition most blues, if sung by a male, is about a lowdown, no good woman (and vice versa for a female), and Thomas has a good feel for conveying the wronged lover that comes through on several tunes here. His treatment of "I Don't Need" starts slow and soft, but by the end he is giving her the third degree with both barrels: "It won't do you no good to shake those hips/ Baby, read my lips." Everybody in the club is clapping to the rousing Thomas original "Do You Remember," driven by Anderson's sharp slide guitar. It keeps getting better with a medley of down and dirty, 12-bar standards; "I Smell Trouble," "Look on Yonder Wall," and "Crossroads Blues" sound like verses of the same song, which they basically are – the universal lament about bad times, bad women, and bad decisions. Thomas tears into these with relish, and he isn't finished with Robert Johnson yet. "Stop Breaking Down" positively burns; this highlight is one of those tunes that works best with just one guitar and a great singer. Don't miss Thomas' story about the Jefferson Davis statue in Memphis.
Good blues is good music, plain and simple. This is great blues.