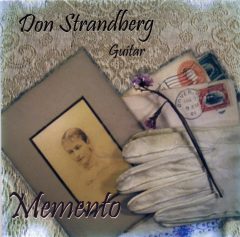 Fingerstyle guitar, a traditional technique of plucking multiple strings with multiple fingers, is almost magical. The simplest tunes and compositions that may fall flat were they to be played on the piano are enlivened in the hands of a fingerstyle guitarist. Performed on the steel-string guitar, as opposed to the nylon or gut strings of the classical guitar, fingerstyle has a way of letting the notes ring, like a harp. Old folk songs, ballads, and lullabies are the music that fingerstyle guitar was meant for, and the simpler the tune, the better.
With his new CD, Memento, veteran fingerstyle guitarist Don Strandberg gives his listeners 15 selections, half of which are original compositions, the other half being old folk and country songs that have been around for decades and generations. The clarity and quality of this disk belies the fact that Memento was recorded in a home studio. Strandberg's guitar is full bodied and the timbre of the instrument is reproduced excellently. The sound is total pro.
Strandberg is an old-style finger picker and favors common tunings such as Spanish tuning, standard tuning, and drop D tuning, which enhance the ability of the acoustic guitar to sing. While he eschews the pyrotechnics employed by guitar slingers such as Tommy Emanuel and Andy McKee, Strandberg plays with a great deal of sensitivity and fluidity. He also has a great sense of time, which is a talent that many fingerstyle guitarists never fully develop.
Opening the disk with a happy yet contemplative tune titled "Spring," seasons, the passing of the year, and other references to periods of time – the opportunities that give us mementos and remembrances – serve as themes for most of Strandberg's compositions on this disk. Reminiscent of Christmas carols such as "God Rest Ye Merry Gentlemen" and "Christmas Bells," Strandberg's "Mid Winter" is a bright and cheery exploration in a minor key and gives off a vibe of holiday joyfulness.
The month of October is a sort of middle child of the calendar. Chilly, with only Columbus Day to break the boredom, it lies between fall's brilliant colors and the excitement of the winter holidays. Strandberg's tune "October" evokes the rest and reflection that are common in this overlooked month. "Morning Breaks," spare and introspective, is a bit different from the rest of the compositions, in that there are some touches of dissonance that pepper the song's beginnings.
Strandberg gets out the slide guitar for "The Red Lion," his tribute to the pioneer of the steel-string fingerstyle, John Fahey. Besides his compositions Strandberg performs country and folk tunes, including "Cancion Mixteca," which adds some spice from south of the border. Strandberg closes the disk with one of the sweetest renditions of "The Water is Wide." He performs the centuries-old British folk song with a benedictive reverence, just as it should be played.